ABOUT BRAVE AFRICA'S MOBILE LODGE
The Brave Africa mobile lodge is not your typical mobile safari. Everyone who has stayed with us has called us a mobile lodge, and for good reason. We have luxury tents with flushing toilets, plush mattresses, and large footprints. We also have a chef who prepares all meals and a full team of staff to take care of our guests' every need. This is not camping. It's staying in a lodge that moves from location to location while our guests enjoy all-day game drives! It's how safaris were always meant to be.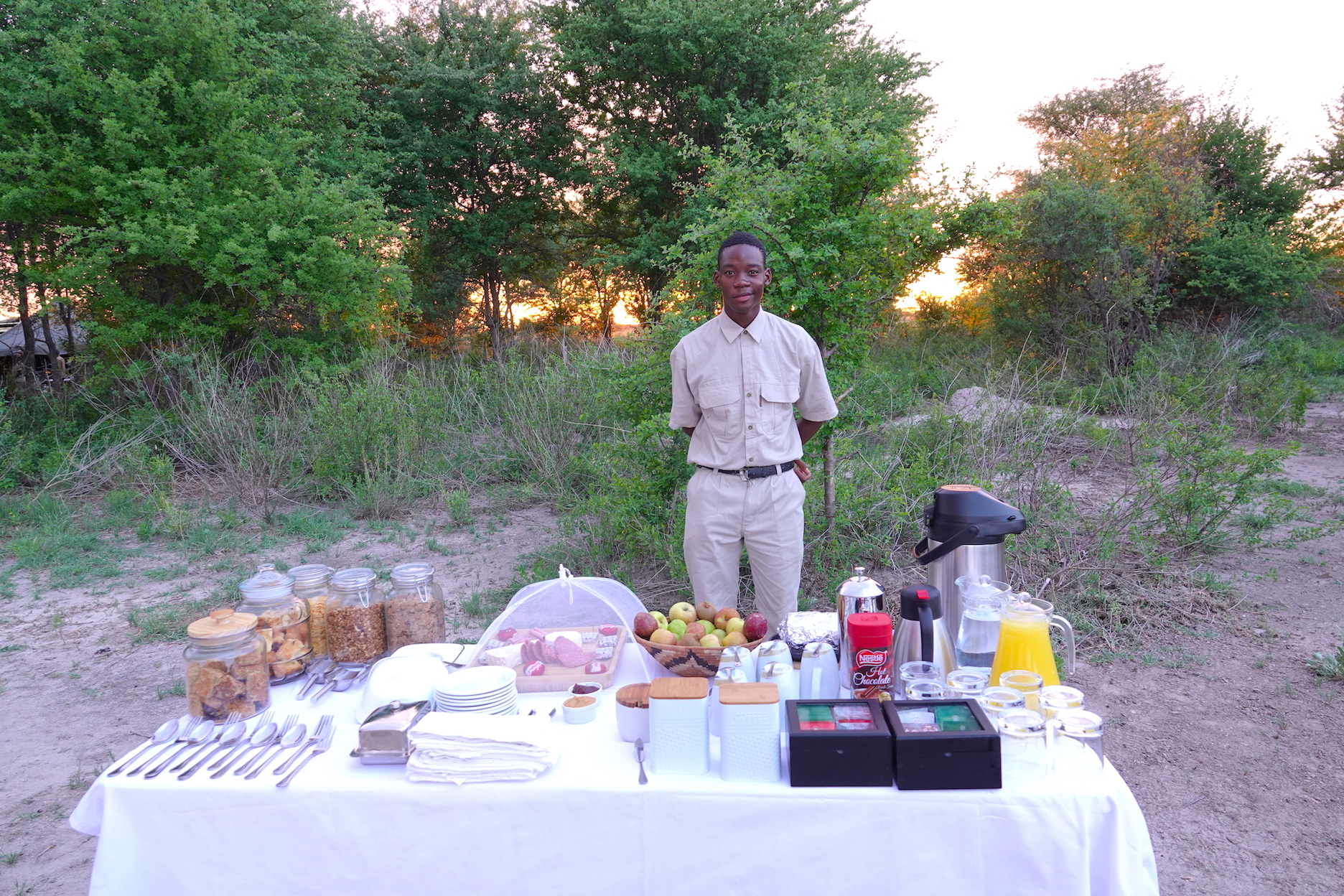 ALL-INCLUSIVE ULTRA-LUXURY SAFARI
Brave Africa does ALL the heavy lifting while on safari. Our team of 12 full-time permanent staff have been trained to handle everything from guiding to camp management, waitering, hospitality, housekeeping, maintenance, and more.
Our safari services include:
All-day game drives with Level 3 guides,

Safari activities, such as: mokoro, walking safaris, boating safaris, village visits, etc.

Moving our lodge from camp to camp,

Setting up and tearing down tents,

Providing environmentally-friendly amenities, including solar lights, personalized aluminum water bottles, a gas stove, and solar-powered energy,

Providing daily cleaning and laundry service,

Offering on-demand bucket showers,

Serving chef-inspired and cooked meals for breakfast, lunch, and dinner.
Amazing experience, phenomenal staff and I will be back for sure as soon as I am able. The mobile Safari aspect compared to the ones that do the stationary lodges is so fantastic. The beds were great in the tents, the food was just wow. If you're looking to go on a true photo Safari, Brave Africa is the ONLY way to go and I promise it's something you'll cherish for the rest of your life.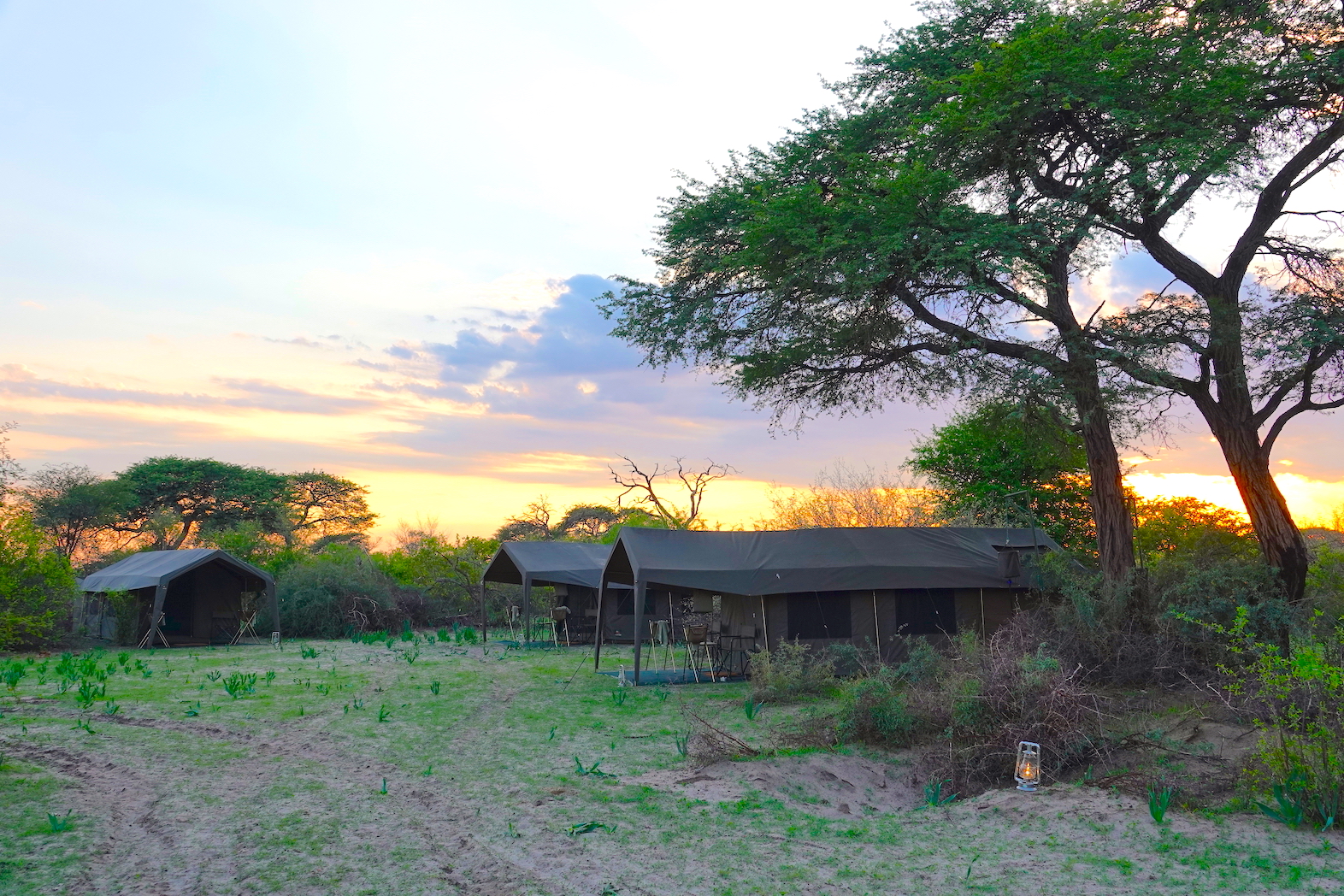 HOW DOES OUR MOBILE LODGE WORK?
When your guests choose Brave Africa, we take them on a luxury safari for 7 or 10 days to visit two or three locations (Moremi, Khwai, or Savuti) in the Okavango Delta every three days. They don't have to pack and unpack between destinations, get on a bush plane to change camps, or compare the quality of their guides, accommodations, or customer service between operators.
On move days, guests leave camp early for an all-day game drive with a chef-cooked lunch—just like usual—while back at camp, our team dismantles the entire lodge and loads it into our two moving vehicles. Our team then drives to the next camp and sets up the entire lodge in time for dinner. When guests arrive, Brave Africa's lodge looks exactly the same as when they started their game drive except it is in a brand-new location.
This means guests enjoy a consistent safari experience with Brave Africa. They can rely on our team, their guide, their luxury tent, and their meals day-in and day-out every minute of their safari.
Brave Africa offers all the convenience and comfort of a lodge with the mobility of a camp!
MOBILE LODGE  AMENITIES
Brave Africa offers all the expected amenities and extras you'd find at a traditional lodge.
7 rooms/tents
Maximum 12 guests
1 extra-large family tent
En-suite bath w/ flushing toilet
Battery charging in main tent
Full-service bar
Open year-round, our mobile lodge combines the authenticity of yester-year safaris with a sustainable, comfortable bush experience. Brave Africa is comprised of six luxury tents (6m x 3m x 2.25m) and an extra-large family tent (8.6m x 3.5m x 2.5m), all en-suite. Guests can watch the magic of the Okavango Delta from their private veranda or from the comfort of our main lodge area, where charging ports are available. Our main lodge is under canvas and offers our bar, cozy seating area, lively fire circle, and a dining area that spills out to under the stars (weather permitting).
ECO-CONSCIOUS LODGING
At harmony with nature, Brave Africa takes an eco-conscious approach to going on safari in Botswana.
There are no permanent structures: we leave each campground exactly as we found it.
We are solar-powered: our front and back of house batteries are hooked up to powerful solar panels.
Plastic consumption is also kept to a minimum with reusable, personalized water bottles: these water bottles are a gift for guests to keep and take home!
We purify our own water, using powerful Berkey Filters—the world leader in water filtration. It removes 200+ unsafe contaminants, 99.9999999% of pathogenic bacteria, and 99.999% of viruses. It exceeds all industry standards globally.
We also use solar-powered lights to illuminate camp, tents, back-of-house, and more. These lights provide far more illumination than the typical lamps, are waterproof, and offer four different light settings (low, medium, high, and flashing) for guest convenience.
Our gas-powered stove, which is solar-powered and used for all cooking, helps us cut back on firewood, and thus our impact on the environment.
We invite guests to share an authentic, warm Botswana safari experience with us.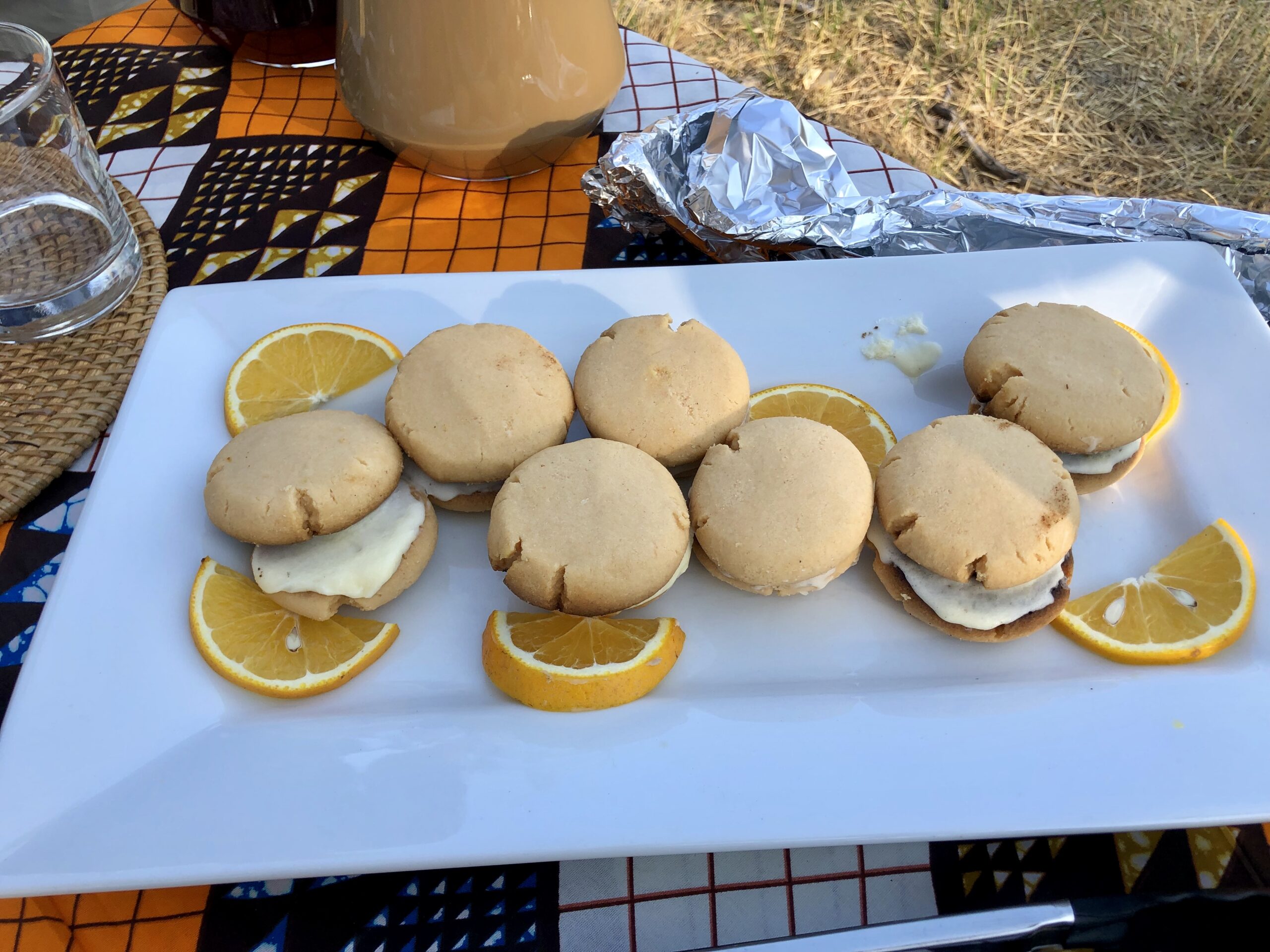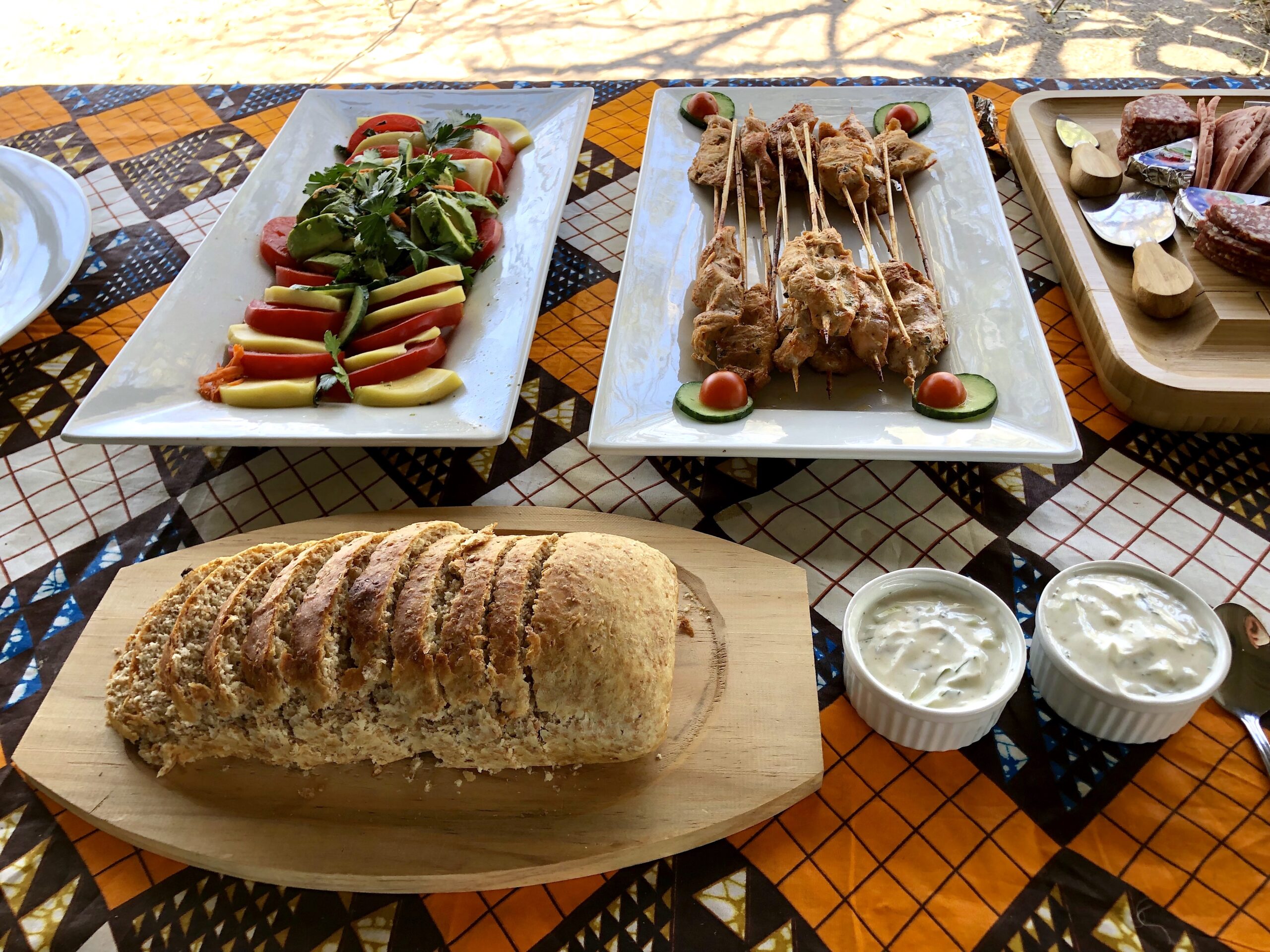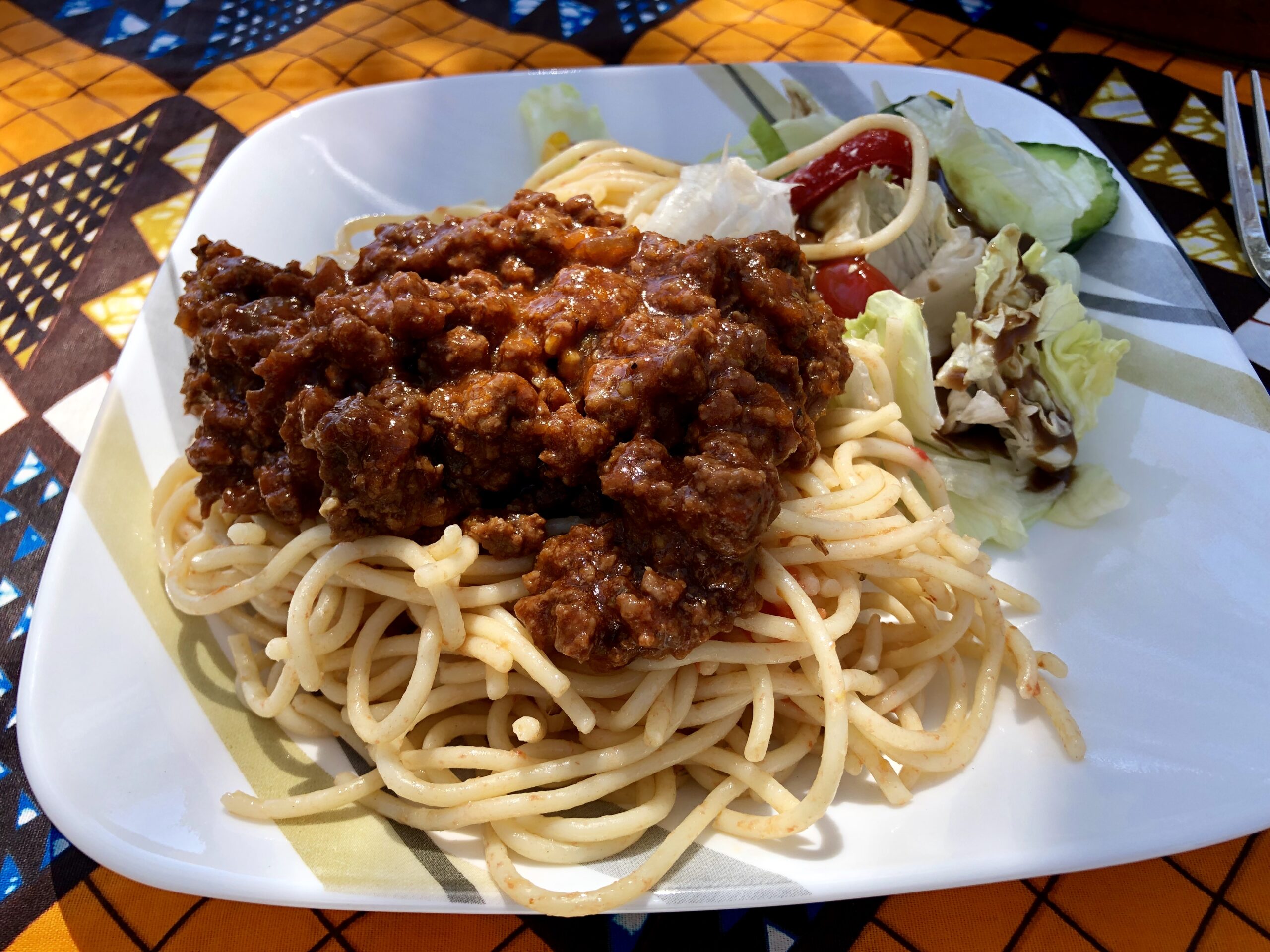 GOURMET COOKING
At Brave Africa, we do not cook over the fire or serve basic fare like you would expect from a mobile safari. Instead, we have a full back-of-house kitchen that includes a large refrigerator, oven, and stovetop powered by our portable solar power battery and generator. This means that we can cook anything that a lodge can.
Chef Ragele came to us from a traditional lodge and brings her exceptional cooking experience to Brave Africa's guests. Traditionally, we offer a cold breakfast of cereals, meats, cheeses, fruit, yogurt, and toast, in order to get our guests out of camp and on a game drive as quickly as possible. However, on special occasions, a hot breakfast of bacon, ham, sausage, eggs, and more is available.
For every lunch and dinner, Chef Ragele makes multi-course meals offering a mix of local and standard cuisine. Sample menu items, include:
BRAVE AFRICA SAFARI ACTIVITIES
Guests will experience the beauty and tranquility of Moremi Game Reserve, the Okavango Delta, and Chobe National Park with Brave Africa. 
Every safari includes all-day game drives and a bush lunch, which allows our cars to travel the maximum distance from camp to get the widest breadth of landscapes and wildlife viewing possible. Guests control when they want to eat, take breaks, and keep driving.
For guests who want to expand their experience, we offer special occasion and celebratory picnics for honeymooners, anniversaries, birthdays, etc. The Brave Africa mobile lodge also offers additional activities, including:
Night Drives
Mokoro
Bread Making
Khwai Village Visits

Walking Safaris

Stargazing
Champagne Drops
Junior Guides
(activities for kids)
BRAVE AFRICA'S GUEST PROFILE
Adventurers
Millennials (25-40 yrs)
Families w/ kids
LGBTQIA+ community
Conservationists
Photographers
Couples
Birders
First-Timers
Brave Africa's mobile lodge lowers the obstacles facing prospective safari-goers by providing the comfort of a lodge with the affordability of a mobile operation. At the same time, we focus on making the most of every minute of our guest's limited time in the bush and embodying their ethics and values.
We are ideal for guests who:
Are afraid of bush flights and want to save money moving between camps.

More time on game drives (all-day in the bush) and less time traveling.

Desire a hassle-free safari that offers all-inclusive customer service.

Brave Africa takes care of all the details of being on safari.

Enjoy an intimate and consistent safari experience.

We prioritize guiding and want expertise in wildlife and safety.
Less expensive than a lodge but with all the same comfort.

Place importance on social equity.

Brave Africa's Botswanan owner built a compassionate company
We take care of our staff and keeps the economic benefits with the local people.

Value wildlife conservation and preserving Botswana's beauty.

We donate $5 a day per guest to various charities dedicated to conservation.

Focus on being environmentally conscious.

We provide guests with reusable personal water bottles,
We power 100% of our devices with solar-generated electricity,
We offer eco-friendly amenities,
We serve buffet-style meals to reduce food waste.
Our personal tent had the luxury of a lodge: a warm king-size bed, a flush toilet, and an open-top bucket shower stall attached to the back of our tent —what a top-notch Mobil Safari Camp by Brave Africa. I loved the warm bucket shower which prepared ahead by the staff, on the cool nights and before bedtime, I stepped out on our tent patio to do my brushing under the starry night. Love it!!!
Our game drives out were from sunrise to sunset. This is an adventure with an expert guide who knows what he's doing and is with you every step of the way! Brave Africa is for people who want to maximize their experience with every type and kind of wildlife you can possibly see. We loved the all-day game drives because it gave us the greatest chance of seeing something amazing.
TRAVEL AGENT DOWNLOADS
We recognize that, as a travel agent, the more information you have about Brave Africa, the better. So, we have collected some of our key downloads below. Simply click on the link to gain access to the documents, pictures, and information you need.
Camp Photos:

This Dropbox link includes over 40 photos of our mobile lodge, guest tents, safari vehicle, and more. Photos can be downloaded and used in guest marketing material.

Brave Africa Info Sheet:

Download our full, all-inclusive rate sheet, containing detailed insight into all of Brave Africa's services, amenities, rates, and more.

Brave Adventurer Safari Summary:

Download this three-page summary of our Brave Adventurer safari visiting Moremi, Khwai, and Savuti. It includes a sample 10-day/9-night itinerary.

Brave Discover Safari Summary:

Download this three-page summary of our Brave Discoverer safari visiting Moremi and Khwai. It includes a sample 7-day/6-night itinerary.

Brave Explorer Safari Summary:

Download this three-page summary of our Brave Explorer safari Savuti and Khwai. It includes a sample 7-day/6-night itinerary.
CONTACT US
If you have any additional questions about Brave Africa or would like to learn more about who we are, our availability, and how we can accommodate your guests, please contact us.
We are always here to be a resource for you!
Connect With Us!
Keep in touch with Brave Africa everywhere we are online and stay up-to-date with the latest news, animal sightings, and other happenings.
— Follow Brave Africa on social media & engage with us.
— Check out our TripAdvisor reviews and leave your own review.
— Tag your travels on social with #BraveAfrica.
— Sign up for our email list and get regular communication.