Botswana Adventure Safaris
Botswana Adventure Safaris
Get the most out of your Botswana safari vacation! Check out our 7 and 10-day safari packages covering the best locations in Botswana. 
10-Day Safari
Moremi to Khwai to Savuti
7-Day Safari
Khwai to Savuti
7-Day Safari
Moremi to Khwai
Why choose brave africa for your safari?
We focus on the experience—keeping you out on game drives and in the wilds of Botswana as much as possible, so you spend your time seeing the animals and not napping at camp.
Close your eyes and picture your ideal safari. Are you imagining it? Do you see yourself lost in the wilderness almost totally alone—just you, your car, your guide, and the animals? Do you see yourself out on a game drive as often as possible, seeing as many animals and experiencing as much as you can?
That's what we picture as the safari experience and that's why we started Brave Africa.
We're not a safari company that tries to pack as many people as we can into a car or at our camp. Every car maxes out at six people (two people per row). Meaning there's no unwanted middle seat and everyone gets to sit right on the edge. We also keep our camp small with no more than twelve guests at a time—just two cars—so you can enjoy an intimate safari experience.
That small size also means that we have the opportunity to cater your safari experience to you. Want to be out on a game drive all day long? We can and will do that! Want to get an even earlier start for a chance to see something spectacular? We do that too! Learn more about what it's like to go on safari with us here.
A Brave Africa adventure safari is about the unexpected—the animals, the scenery, the untouched beauty. That means that we don't waste your vacation money on unnecessary luxuries you'll never have time to enjoy. You're in Africa! The last thing you want to do is spend most of your time in your tent; you want to be out in the Botswana wilderness seeing the animals, so that's where we focus on time, attention, and your money. We believe in creating an African safari experience that's all about what you really want—spending time with lions, African painted wolves, hippos, elephants, giraffes, leopards, and more.
Contact us today to plan your Brave Africa adventure safari!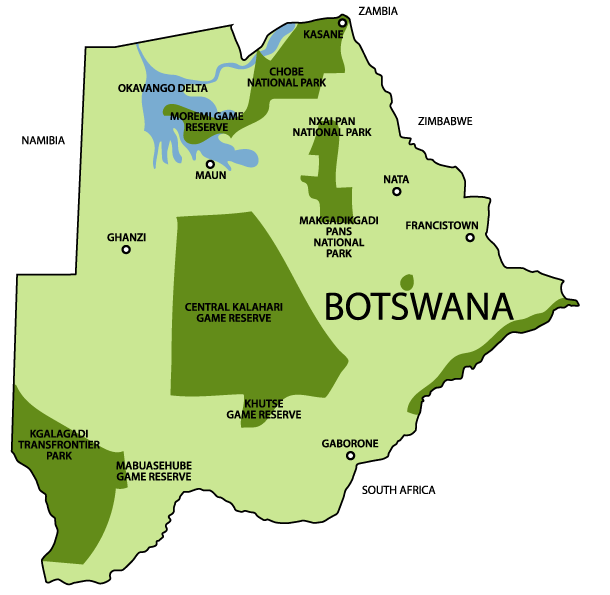 A Safari under canvas should be on everyone's bucket list!
Our tents are set up for you with flushing toilets, plush mattresses, lots of space, and a bucket shower that you'll brag about experiencing to all your friends. It's a safari how it was meant to be: up close and personal with the animals and the stunning landscapes of Botswana. And Botswana is incredible.
While most people think Kenya or Tanzania are the places to be for great migration, what they're not considering is the number of people they're going to have to compete against. In the Serengeti, you'll have to share whatever incredible animal you find with dozens of other cars. That's not a safari; it's a theme park.
Botswana is completely different. It's one of the least densely populated countries in the world and that's reflected on your safari experience. Few tourists consider Botswana as a safari destination, but it offers untouched wilderness and an in-your-face safari experience you can't get anywhere else. Similar in size to Kenya, Botswana has few crowds, few insects, doesn't require an entry visa, and offers a wealth of unique scenery from deserts to forests, marsh lands, savannahs, and more.
If you're looking for a safari experience that offers adventure, unbelievable wildlife viewing, and a safari tailored to you, you want Brave Africa. Our goal is to make you fall so in-love with Botswana that you can't imagine visiting anywhere else. After all, that's what happened to us!
What Our guests Say About Us!
Going on a Brave Africa safari is a once-in-a-lifetime experience that you'll want to enjoy over and over again! But don't just take our word for it. Check out what our satisfied guests have had to say about us.
For a luxury mobile tented safari but at a reasonable price you can't beat this company. The tents are luxurious (very comfortable beds), the staff extremely attentive and the food... read more cooked by Rachel exceptional. Mostly however the superb skills of the resourceful Tabona Wina as Guide make this really special as he has an extraordinary ability to find game.

michaelkS6618CU


September 23, 2022

I went on the most wonderful safari with Wina and his dedicated team. I've been on a few safaris in my time and this has been far and away the... read more best.

Wina is incredibly knowledgable and passionate about nature, and through his skill we were able to see a whole range of animals from lions to painted dogs to buffalo to elephants and, most excitingly of all, a leopard!

We also saw a huge range of birds including eagles, vultures, owls, kingfishers, hornbills, lapwings - the list goes on! Importantly, Wina was able to identify them all with ease and provide some astonishing facts about each.

The camp was lovely and very thoughtfully put together with a great eye for detail + the bed was more comfortable than my one at home!

There is no chance of going hungry on a Brave Africa safari with delicious, indulgent food served throughout the day.

Thank you Wina and team for making my stay in Botswana so special. I would highly recommend!

LJHK1985


September 22, 2022

Our family of four were taken on mobile safari by Brave Africa in September 2022. They gave us the most amazing experience, camping in luxury in the Chobe and Moremi... read more national parks in Botswana. We saw some sensational game over our five nights, with the considerable aid of our expert guide, and otherwise were treated like royalty back in the camp by dedicated and very friendly staff. When it was time to go we were as sad to leave the stunning wildlife as we were to say goodbye to the wonderful men and women who looked after us- a really unforgettable experience that we would all gladly repeat. Strongly recommended.

345rupertk


September 21, 2022
Connect With Us!
Keep in touch with Brave Africa everywhere we are online and stay up-to-date with the latest news, animal sightings, and other happenings.
— Follow Brave Africa on social media & engage with us.
— Check out our TripAdvisor reviews and leave your own review.
— Tag your travels on social with #BraveAfrica.
— Sign up for our email list and get regular communication.