Inside Your Brave Africa Camp on Safari
What's it like to stay with Brave Africa? If you've never been on a safari before or this is your first time with Brave Africa, you might have some questions about what camping in Botswana is like. Don't worry! You're not roughing it by any stretch of the imagination. We offer a comfortable and luxurious camp experience.
YOUR TENT
This isn't your standard camping tent. This is a luxury tent that's approximately 6 meters in length, 3 meters wide, and 2.25 meters tall. And that doesn't include the shower, which adds another 2 meters in length.  There is plenty of room for a large sleeping area and a separate bathroom. It's a tent that you can fully stand in with six windows, rugs, and room to move around. You won't even realize it's a tent.
Your tent will feel just like a hotel room under canvas. This is camping in Botswana in style. It's an intimate, but highly comfortable experience where you get to enjoy the sights, sounds, and feel of the African bush while still being well cared for.
Every night, you'll fall asleep to the sounds of the African savannah with nature right outside your door and walking alongside your tent. The stars and moon will light the sky, and inside your tent, solar lights will help you get around until you're ready to call it a night. It's a unique, one-of-a-kind experience you'll be talking about for years.
TENT FEATURES
The front of the tent includes a nice overhang with chairs where you can sit and relax in the mornings and evenings. Sometimes, you'll even get lucky enough to enjoy our favorite form of entertainment: Bush TV with live animals as the actors.

The main sleeping area can be made up with a king-sized bed or two twin-sized beds with comfortable mattresses, sheets, and all the fixings. There are also two side tables and a chest for storage.
The first bathroom section, separated by a small opening, is where your full-flush toilet and sink are located as well as your closet. This is still inside the tent with windows for ventilation.
The final section—which has fully enclosed walls but is open to the sky—is your bucket shower area. You'll enjoy our bathing-under-the-stars experience, which keeps moisture and water from soaking your sleeping area while still being completely private and connected to your room.
CAMP AMENITIES
At Brave Africa, we do our best to take care of all your needs while camping in Botswana. We offer all the expected amenities and extras you'd find at a hotel. Our main tent serves as the living room and dining area. This is where you'll spend time whenever you want to get out of your room while at camp. We'll have seating and charging areas inside the main tent, which will be lit by solar lights after sunset. Just outside the main tent will be our fire pit where we'll make bread, hang out, and enjoy as often as you want.
TOWELS, LINENS, AND TOILETRIES
We supply both bath and hand towels as well as all the linens you'll need for your safari. We also supply basic toiletries including soap, shampoo, and conditioner, similar to what you would find at any hotel.
LAUNDRY
We offer daily laundry services for all of our guests. A small laundry basket will be included in your bathroom area and should be filled before heading out on safari for the day if you'd like your clothes washed.
MEALS
All meals are provided while on your Brave Africa safari and that includes breakfast, lunch, and dinner. We also typically offer two small snacks a day while out on safari—a morning coffee break and an evening sundowner. All meals are prepared by our professional camp chef and offer a mix of local and international cuisine.
BREAKFAST: 

Breakfast is provided every morning before you head out on your game drive. We'll serve a variety of dishes including coffee, tea, muffins, cereal, eggs, and more.

LUNCH: 

Lunch is either cooked fresh at camp, or it's pre-prepared and ready for you to enjoy out in the bush during your all-day game drive.

DINNER: 

Dinner is always at camp and cooked fresh by our professional chef. It includes your choice of beverage and varies each night.
ALCOHOLIC BEVERAGES
All local alcoholic beverages are included in the price of your safari. We carry a variety of red and white wines as well as local beers. Premium alcohol is available upon request—for an additional fee. Feel free to ask our staff what we have available. After all, what would camping in Botswana be like without something delicious to drink?
DIETARY REQUIREMENTS
We're happy to cater to any of your dietary requirements whether you're vegetarian who you have food allergies. All we ask is that you advise your travel agent or us of ANY special food requirements when you book with us. We need time to ensure that our menu meets your special needs and due to the sporadic nature of food availability in Maun, we may have to special order certain items from South Africa, which means the more time you give us to prepare, the better.
WATER
We take care of all your water needs from providing purified drinking water that's always safe to consume, to water for washing and bathing.
DRINKING WATER
We provide purified drinking water for all your hydration needs. At camp, we have two Berkey Filters that have the power to filter almost any type of water whether it be from a stream, your tap, the rain, or a mud puddle. Now, we promise not to give you stream water, but the point is that you'll NEVER run out of clean, purified drinking water at camp.
You'll also always have a personalized Brave Africa metal water bottle that will be your safari companion while you stay with us. You can fill and refill this bottle at any time for fresh water that's always at your finger tips. One of our Berkey Filters will always be in the main tent and we'll also have cold water available in pre-filtered jugs in your tent. This helps us cut down on plastic waste, protect our environment, and is a fun souvenir to take home.
WASHING WATER
Your sink will have a large pitcher of purified water, which you can use for washing your hands, getting ready, and even brushing your teeth! As for your bucket shower, when you're ready, just ask our staff and they'll heat a fresh bucket of water for your shower so you can enjoy a piping-hot shower on-demand. Now that's what we call glamping in Botswana!
TECHNOLOGY & CHARGING ACCESS
In the middle of the Botswana bush power is limited—animals don't need or want power lines or cell phone towers. Animals also don't need Wi-Fi, so please plan to be completely UNPLUGGED from the world during your safari.
At night, your tent will have solar LED lights with three brightness settings. If you need to charge any electronics, we have a solar-powered YETI charging station in our main dining area that can charge up to 40 mobile phones in a single charge. Each night, we recommend recharging your batteries and other electronics for the day ahead. We recommend bringing your own small power strip to charge multiple items at once.
As for when you're out on your all-day safari, there will be charging opportunities! We have installed 2 personal USB ports per guest (at least 4 ports per row). However, we still recommend bringing at least one portable battery with you on your safari drives, just in case.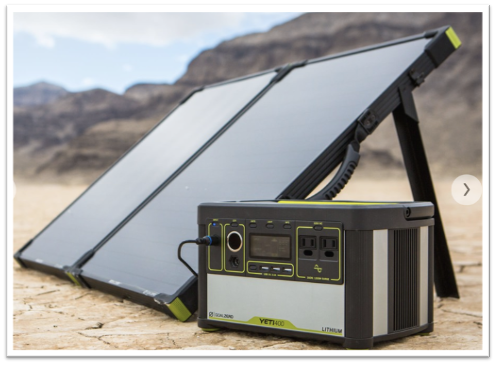 MOVING BETWEEN DESTINATIONS
We have two, brand new 2019 Toyota Land Cruiser safari vehicles that have been thoughtfully outfitted for the ultimate game drive experience. A maximum of six guests will ride in each vehicle, meaning that every guest will have a window seat for intimate game viewing experiences.
And because we're a mobile adventure safari, you get the same tent your entire safari—it's just going to pop up in two or three different locations throughout your trip. But, don't worry. You don't have to do anything to move between destinations.
The Brave Africa staff takes care of all the details of camping in Botswana. We pack up your tent every time we move to a new location and set it all up again. While you're out on safari, enjoying the animals, our crew is working hard to ensure camp is ready in time for a delicious dinner and bedtime. You won't even realize your room moved except that your tent will be in a whole new location. Think of it like a hotel room that shows up where and when you need it, all ready to go.