We are thrilled to offer last-minute bookings on your safari with Brave Africa for 2023 at a significant discount! Receive $100-off per night per person for any safaris booked in August, September, October, and November 2023! That's $900 in savings on our 9-night safari (per person) and $600 in savings on our 6-night safari (per person). There's even a savings of $40/night for low-season safaris booked in December!
This is a one-time-only special, so don't hesitate to book now! These fill-the-calendar rates are only available for the end of the 2023 season.
Pay Less for Last-Minute Safari Bookings in 2023!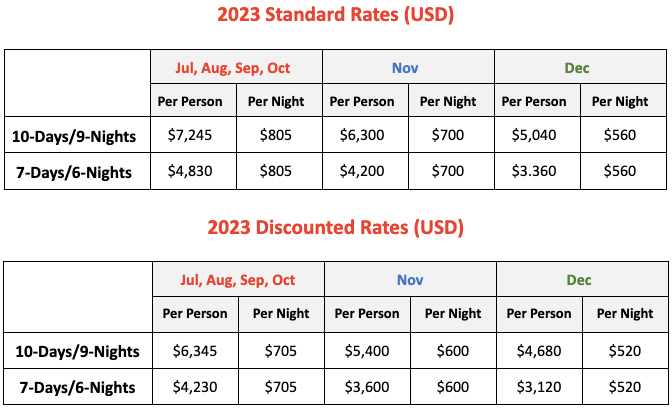 As part of this year-end special, we are also removing our fees for custom safaris. As long as your safari meets our minimum requirements ( 2 guests and 3 nights) there is no additional fee for a non-standard safari. Whether you need a 5-night safari for 3 guests or a 3-night safari for 2 guests, we would be happy to make your safari possible.
Why Should You Book a Safari with Brave Africa?
There are so many reasons to book a safari with Brave Africa now, and it's not just our great pricing! We have one of the best guides in Botswana, our mobile safari offers lodge-like comfort combined with an authentic experience, and our team is dedicated to hospitality and ensuring you have a wonderful time on safari that you'll remember forever.
Meet Tabona Wina: Brave Africa's Founder, President, and World-Class Guide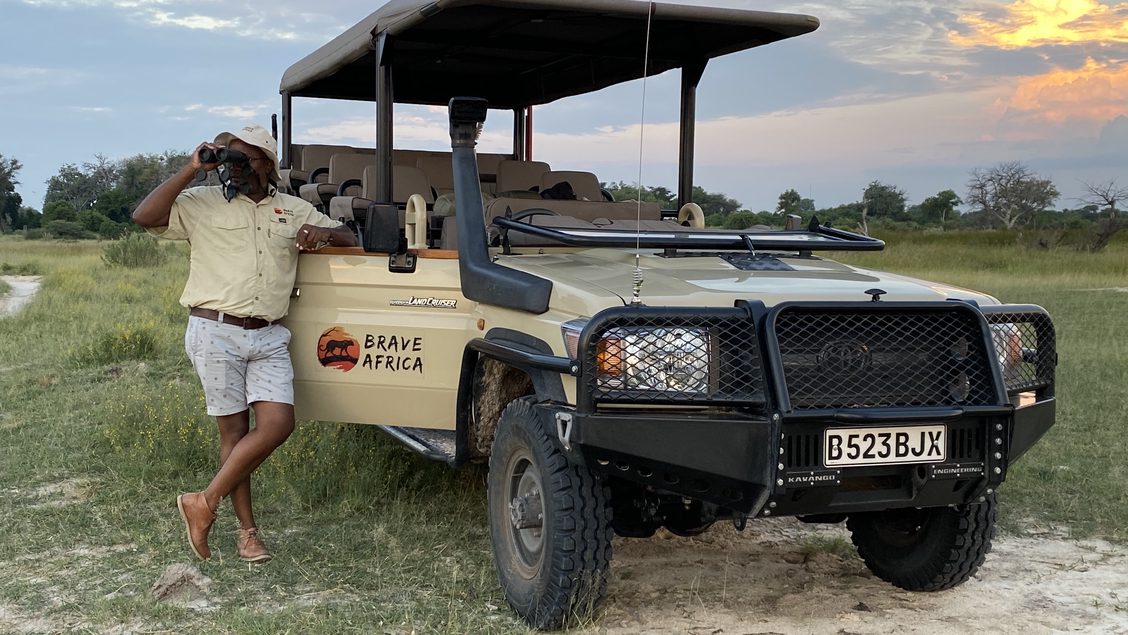 "Mr. Tabona Wina is a skillful guide, with a deep knowledge of the flora and fauna of Botswana. He was able to locate and track many wonderful animals. We felt safe while on safari drive with him." —PaultVo TripAdvisor
"If you don't have a "Wina" (our guide), you don't have ½ the experience. Wina has 10+ years experience in Botswana. He knows every animal, behavior, tracking paw prints, birds, even knows about animal poop!" —Rick TripAdvisor
"I went on the most wonderful safari with Wina and his dedicated team. I've been on a few safaris in my time and this has been far and away the best. Wina is incredibly knowledgable and passionate about nature!" —Leo TripAdvisor
Check out our latest blog all about guiding to learn more!
Brave Africa is a Mobile Safari Offering Lodge-Like Comfort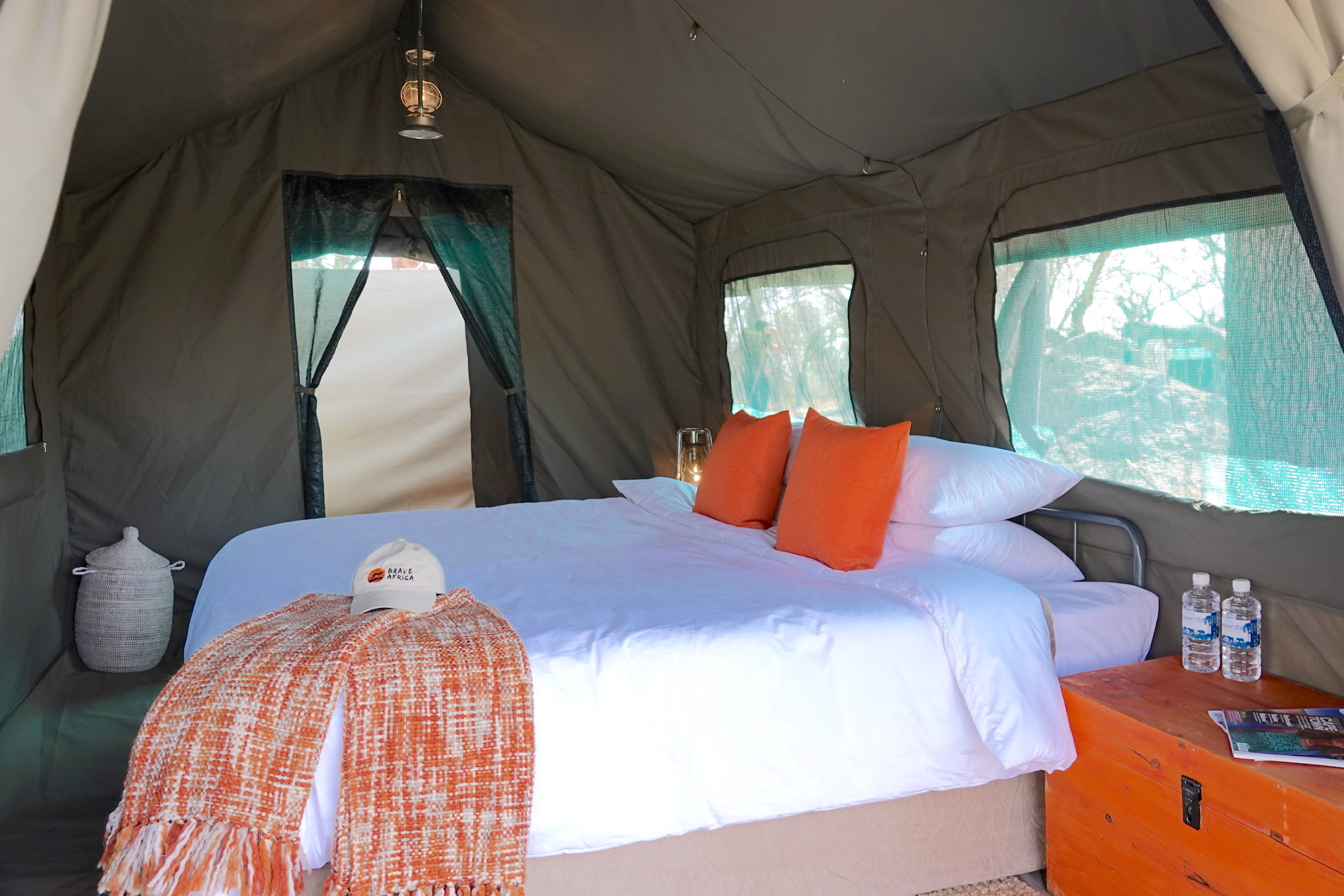 "Oh, and of course there was the 5-star all inclusive accommodation. My wife has never camped in her life and had only compliments. From king size beds, to toilets, to warm showers… this is a luxurious way to enjoy nature. All done sustainably and in harmony with the surrounding environment." —Fernando TripAdvisor
"For a luxury mobile tented safari but at a reasonable price you can't beat this company. The tents are luxurious (very comfortable beds), the staff extremely attentive and the food cooked by Rachel exceptional." —Michael TripAdvisor
"Now to the Brave Africa mobile camp. Can I just say, I'm NOT a camper and have never once considered a camping vacation. Well, this is not camping and it's even a step or two above glamping. The tents are huge with 3 separate sections and a covered porch-all divided by zippers. The front section holds 2 twin beds that can be converted into a king (with comforter, decorative pillows and throw), 2 nightstands, and a canvas floor and rugs. The next section holds the toilet! It's a regular full-size toilet, a stand with for the wash basin, pitcher, hand soap, lotion, etc. and a closet. The back section is the outdoor shower (fully enclosed for privacy), with shampoo, conditioner and soap included. We even had DAILY laundry service. The Brave Africa staff was just lovely, so welcoming and accommodating." —Sheree TripAdvisor
Read our blog comparing our mobile safari to a safari lodge for more insight!
Discover Exceptional Hospitality and Have an Experience to Remember Forever
"I cannot write a review without mentioning the large staff. Every single one of them were one of the loveliest people I have ever met. They simply cared…about everything, singing beautiful songs as a group, which I will never forget. The team was genuinely interested in who I was and wanted to know more. They smiled with such a genuineness that will bring me back to share more experiences with them, again." —Laurie, Trip Advisor
"What a top notch Mobil Safari Camp by Brave Africa. I loved the warm bucket shower which prepared ahead by the staff, on the cool nights and before bedtime, I stepped out on our tent patio to do my brushing under the starry night. Love it!!! The Brave Africa staff was very courteous and friendly, and this was a once in a lifetime trip to remember. We will be back." —Mylinh TripAdvisor
"And then there were the accommodations and food. The tent had twin beds pushed together to make a king and very comfortable. The flushable indoor toilet was fabulous, along with the bucket shower that was filled up with warm water for us. I am not into camping so this was right up my alley! The food was 5 star as well, and no shortage of it. We had 3 meals along with snacks on safari. We enjoyed a few drinks with Wina every evening – he is a gracious host! The entire team was incredibly friendly and it was just a fun time. Fun and educational. I HIGHLY RECOMMEND using this company for a safari in Botswana. I'm even telling random travel agents I run into!" —Susan TripAdvisor
Discover 5 more reasons to safari with Brave Africa here.
Book a Safari with Brave Africa Today!
If you would like to book a safari with us and take advantage of our amazing 2023 discounts, contact us today! You can:
Send us an email: [email protected]
Call our team on WhatsApp: +1 720-474-2965 (United States ) or +267 71 701 841 (Botswana)
We would be happy to help you plan your trip and create memories of a lifetime with you.