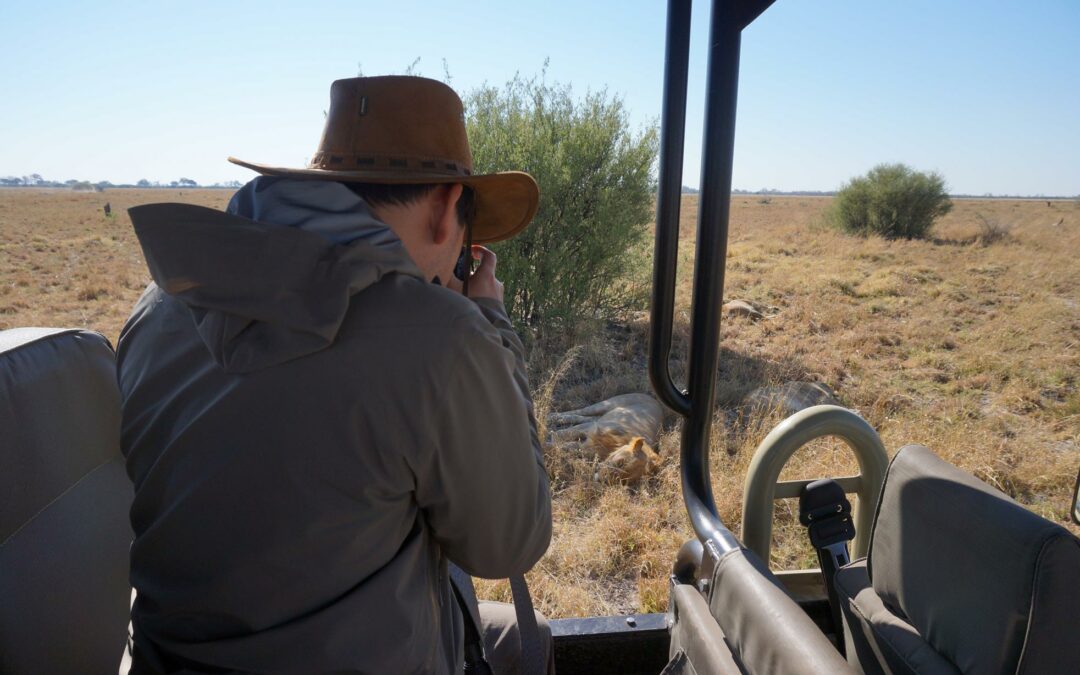 If an African safari is on your bucket list, there's probably one thing you dream about—seeing the animals.
You want to experience elephants up close and personal.
You want to watch a lion walk right by your vehicle within touching distance.
You want to sleep under an African sky and experience a world mostly untouched by time.
That's what an adventure safari is all about.
What is an Adventure Safari?
An adventure safari is different from your typical safari experience in one simple but profound way—you don't waste time at camp.
On a traditional safari, you go out on bush drives in the morning and then again in the afternoon. During the middle of the day, you're back at camp. At this time, you'll eat lunch and have a few hours to lay by the pool, nap, and twiddle your thumbs.
For some people, that might sound perfect. They want a plunge pool, a TV on the wall, and Internet access at all times. They want a luxury hotel that also happens to offer wildlife viewing like a zoo. But that's as inauthentic as it gets.
Why would you go to Africa for the same experience you could get at a theme park? You don't want a horrible experience like this!
With an adventure safari, the focus is less on luxury and more on experience.
While you'll still stay in comfort, you also won't be spending much time at camp when you choose Brave Africa. After waking up right around sunrise, you'll have a quick breakfast before heading out into the Botswana bush. Then, you'll stay out all day long on your safari drive, which gives you the most time possible with the wildlife.
Instead of being back at camp, wondering about what's happening out with the animals, you'll be out driving around seeing and experiencing more of everything. We go on all-day game drives from morning until night. After all, you came all the way to Africa to see the animals, don't you want to spend your time with them and not sleeping?
But aren't the animals most active only in the morning and evenings?
Yes, the early morning hours right around sunrise and evening hours near sunset are some of the best times to see the animals when they're active, but they don't return to their homes during the middle of the day. The animals are always out and about no matter what time it is—even under the hot noon sun. So, if you don't want to miss out on even a second of seeing the animals, then you need to be out exploring.
Three Stops, One Mobile Safari
Another key to an adventure safari is that you don't just get to experience one location; you get to experience up to three different camps. Instead of having to book a different lodge every time you want to see a unique landscape in Botswana, we take you to diverse landscapes while on safari, which saves you travel time that would otherwise mean spending time away from the animals and on a bush flight.
With Brave Africa, you start at one location (Xakanaxa or Savuti), spend three days there, and then during one of your all-day game drives, we move your camp to the next area, Khwai. After another three days, you move to your last location all without having to lift a finger or leave the bush to get there. Our staff takes care of moving your tent between each camp—tearing it down and getting it set up—while you're out enjoying the animals.
A Safari Under Canvas
Finally, an adventure safari is all about getting close to the landscape, the animals, and the feel of Africa. That's why Brave Africa is a safari under canvas. You'll stay in luxury tents with plush mattresses, flush toilets, and all the typical amenities of a hotel, but at the same time, it won't feel like any hotel you've ever stayed at.
Our bucket shower is a one-of-a-kind experience that you'll want to brag about when you get home. After all, when else will you have the opportunity to take a shower under an open sky with freshly heated water on demand?
The crystal clear Botswana sky at night is unforgettable!
As for your tent, it keeps you protected from the elements and the animals while still allowing you to be a part of it. A tent means you get to hear the wildlife at night, which is an experience you'll never forget. It also means that even when you're at camp, you'll still feel like you're on safari.
Is an Adventure Safari Right for You?
So, is an adventure safari with Brave Africa right for you? There are a few questions you need to ask yourself.
Why are you going on safari? If your goal is to see the animals, be out in the bush, and explore the many different landscapes of Botswana, then an adventure safari is what you want.
How luxurious do you want your camp to be? If you're going on safari to take pictures of yourself by the plunge pool, sipping expensive whiskey, and feeding giraffes, Brave Africa isn't what you want. We try to bring you as close to the African bush as possible with experiences focused on wildlife nut luxury and dedicated to being real, not Instagram setup.
Do you go on vacation to experience and do as much as possible or to nap? You can nap at home. You spent so much money to go to Botswana on safari, wouldn't you rather that money be spent on activities than sleeping?