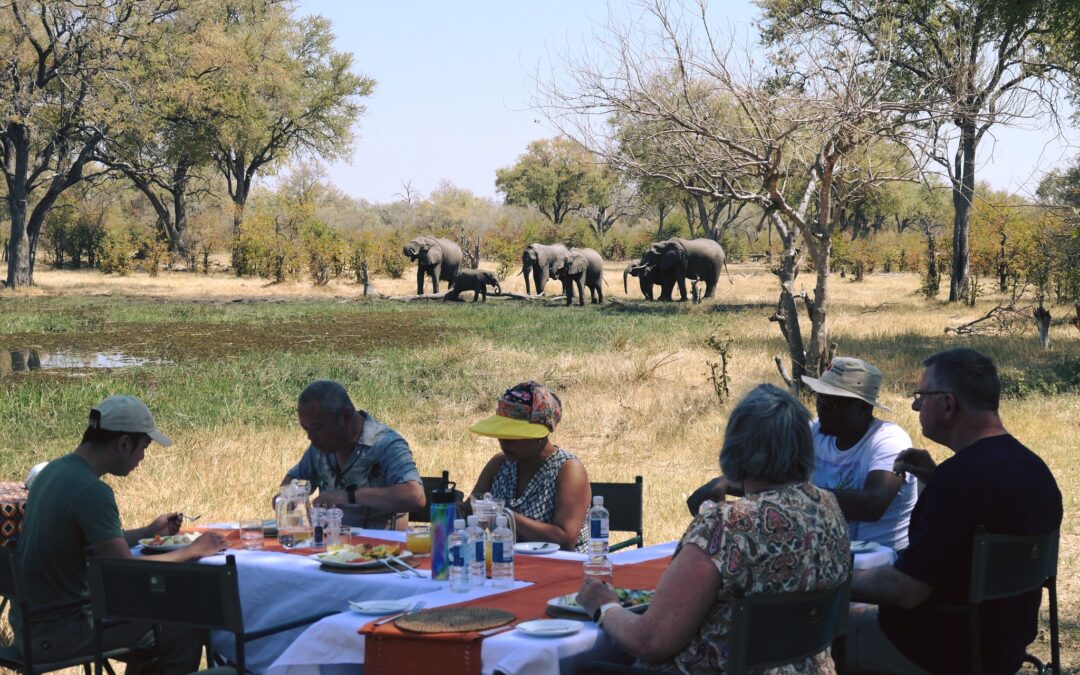 Has someone told you, "You just have to go on an African wildlife safari!"? But you were not sure what they meant. Don't worry! You are not alone.
While an African wildlife safari is a bucket list vacation for many people, it can also be intimidating and confusing. We get so many questions about going on a safari—what it is, how it works, where to go, etc.—that we wanted to create a blog series to help you out.
Over the next few blogs, we're going to deep dive into everything you need to know about African wildlife safaris. For this first blog, we are starting with "What is an African Wildlife Safari?"
So, let's go!
What is an African Wildlife Safari?
In the simplest terms, an African Wildlife Safari is a sightseeing trip to observe animals in the wild (bush). These are NOT hunting safaris. No animals are harmed during a wildlife safari. Instead, you go out in a 4×4 vehicle and search for animals in the vastness of the African wilderness—off-road and/or on designated paths.
The word "safari" is actually a Swahili word that means "journey or trip." This is why, when we discuss going on safari, we don't talk about an end goal. It's about spending time exploring the bush and everything it has to offer. It is about the journey, and experiencing everything you can—and not the destination.
Wildlife Safari Guides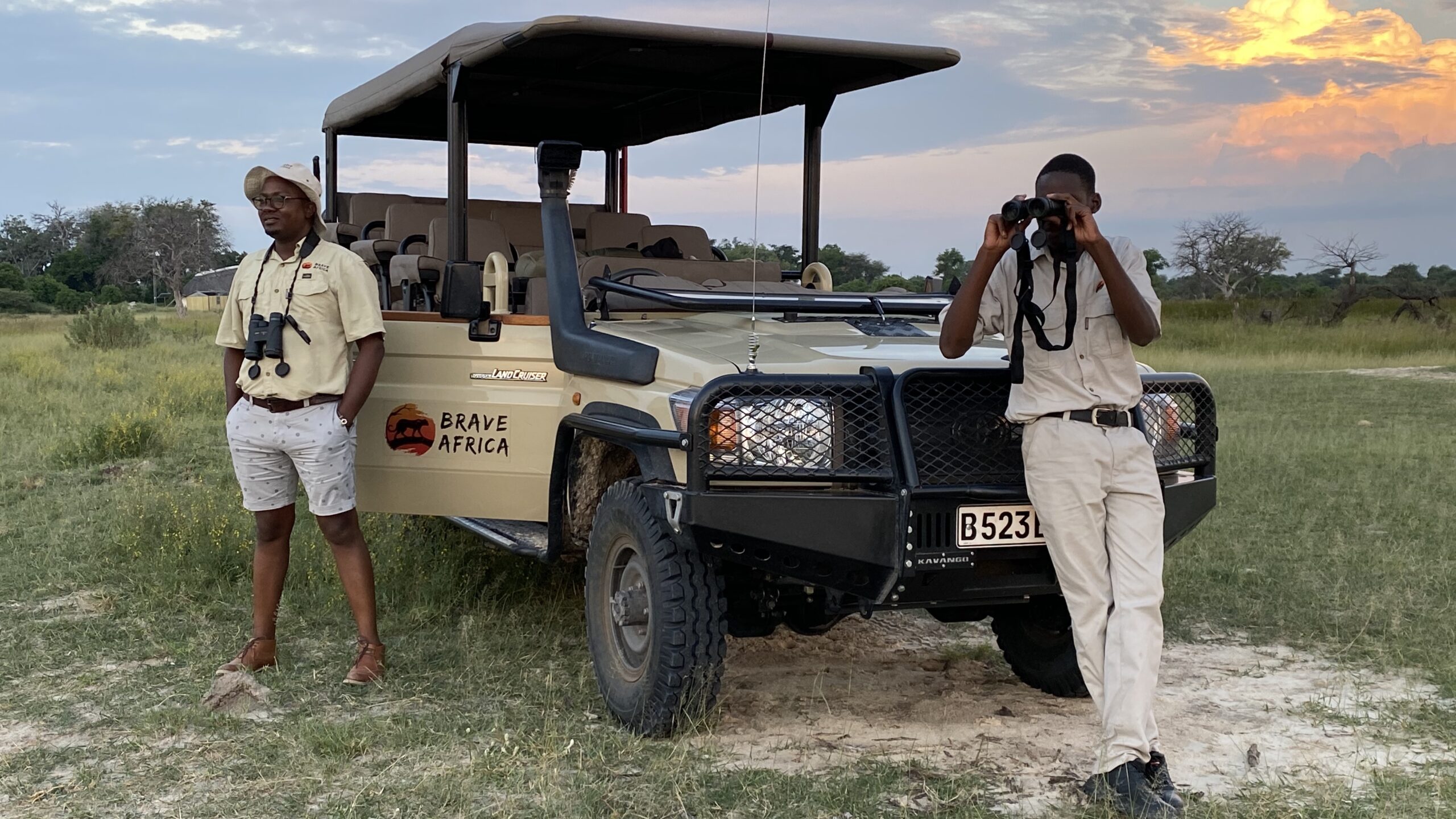 An African wildlife safari can be professionally guided or self-guided. Though we HIGHLY recommend a guide. A safari guide is a professionally trained individual who:
has a passion for wildlife,
has studied animal behavior and tracking,
has a deep knowledge of the bush,
and is ultimately responsible for your incredible (and safe) experience.
An unguided safari is more like driving through a national park in other areas of the world and hoping you see something, anything. You rent a 4×4 and drive on the paths and roads, crossing your fingers that wildlife will be nearby and easy to spot. There is no guide to help you track, and you will NOT be in an open-air vehicle for your own safety.
But a wildlife safari guide offers even more than the ability to find more animals. They are also living encyclopedias. We dare you to try and stump your guide with a question. If they have been guiding for a few years, there are few questions they have not answered and few facts about the animals, landscape, plants, and stars that they have not learned.
What Are the Different Types of Wildlife Safaris?
Now that you know what an African wildlife safari is, let's talk about the different types of safari experiences you can expect. It may seem a lot more complicated than a trip to the city or theme park, but it doesn't have to be.
There are three main types of safaris, each at a different price point and with a unique experience: Self-Drive Safaris, Mobile Camping Safaris, and Lodge Safaris.
Self-Drive Safaris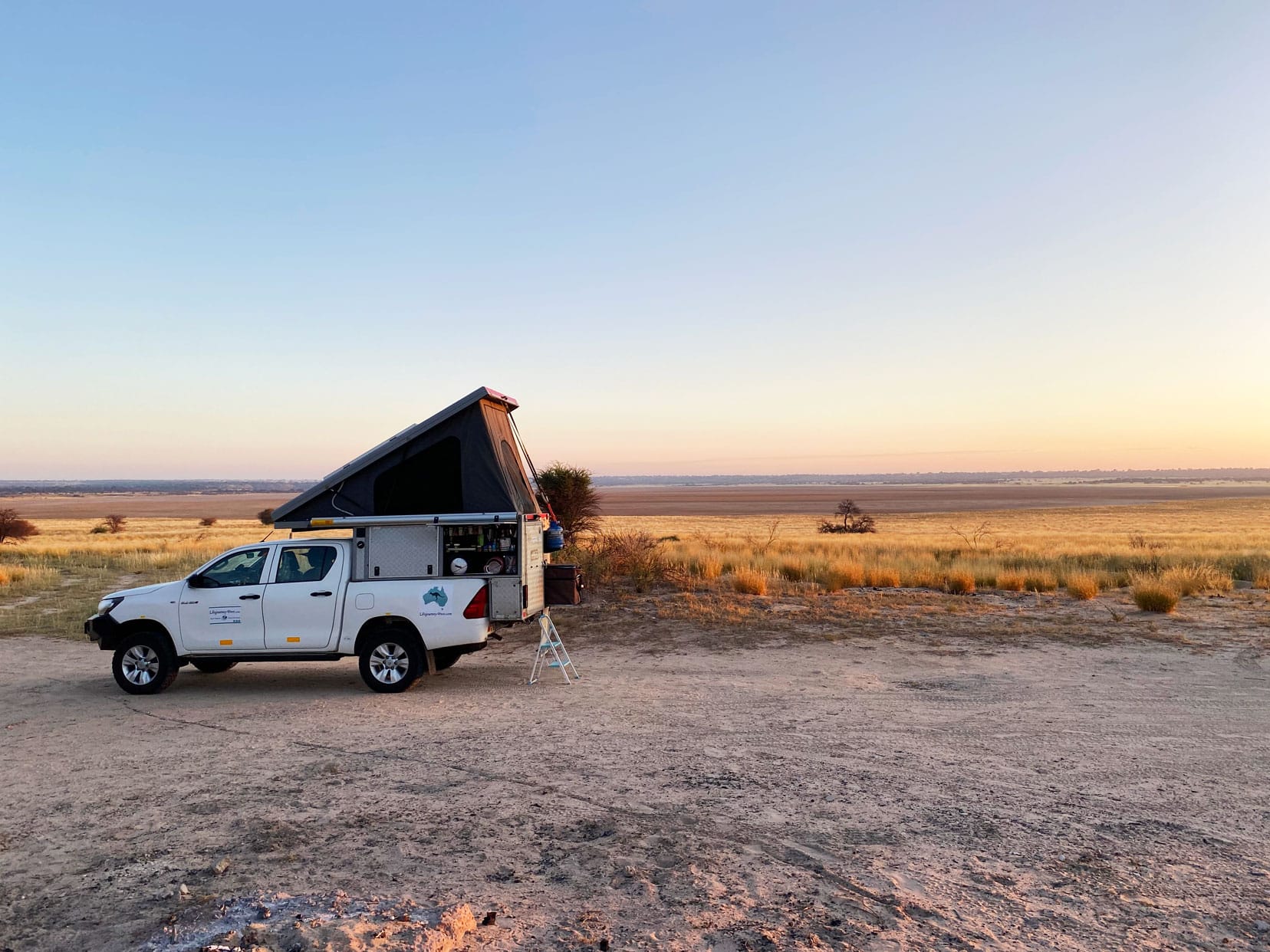 This is the most basic type of safari and the most affordable (kind of). You rent a car, buy tickets to a national park, and drive yourself and your family around the park searching for animals.
The simplest version of a self-drive safari is a day trip to a park such as Kruger National Park in South Africa. In this case, you would purchase a park ticket for one day and drive along the roads within the public portion of the park and see what animals you can see. You CANNOT drive off-road in this case, and you will be in the portion of Kruger that is open to all tourists (this means it is BUSY).
A more complicated type of self-drive safari is a multi-day camping safari. For this type of self-drive safari, you would rent a 4×4 vehicle and pay for a campsite within a national park such as the Khwai Community Concession. You would set up your campsite, and then every day of your trip, drive out in your vehicle along the paths to see what wildlife you can discover. You would need to be proficient at both camping and driving off-road.
The key thing to remember about self-drive safaris is that you are 100% on your own. You do not have a professional guide who knows the area or the animals. You have to be completely self-sufficient. Oftentimes, this results in vehicles getting stuck and needing to be rescued or poor animal sightings because you can't track them.
Mobile Camping Safaris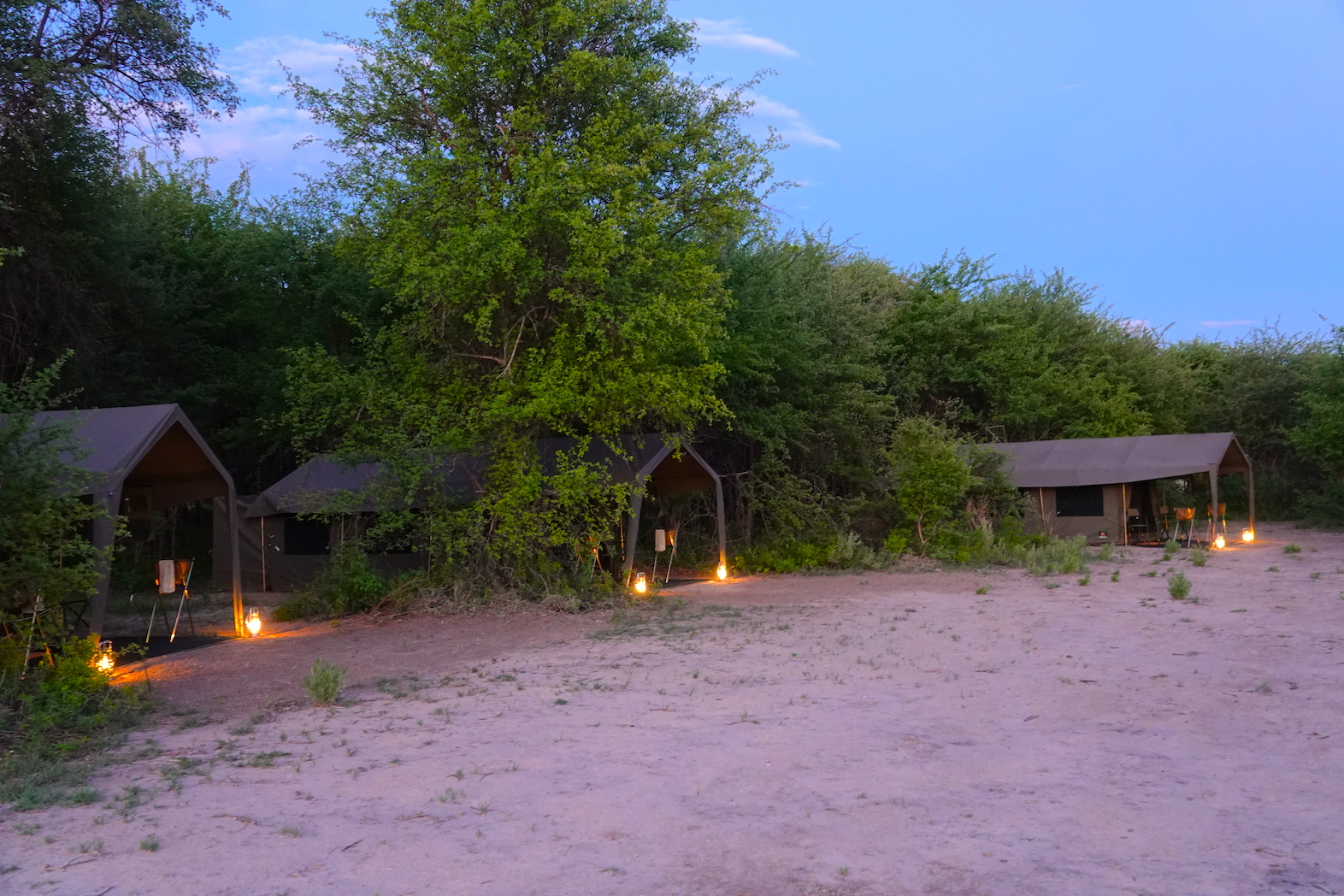 The next type of safari is a mobile camping safari. This is what we are at Brave Africa. Basically, you work with a safari company to go on a guided safari. The company provides the tents, vehicles, food, and professional guides to make your experience as incredible as possible.
The difference between a mobile camping safari and a lodge is that a mobile safari takes place in mobile tents that can move between locations. This means you can sign up for one safari package, and the company will move you between locations on your safari without you having to book different lodges in different locations and pay for travel between each site. Think of it like paying for a tour versus paying for separate hotels.
However, it is important to note that there are different levels of mobile camping safaris.
Basic: The basic level includes very small camping tents without attached baths or toilets, and that you may need to set up and tear down yourself. You should also expect simple meals (sandwiches or basic fare cooked over a fire), and very few other accommodations. You mostly pay for the professional guide and the safari vehicle to take you around. This is a no-frills type of camping safari.
Premier: A comfortable but modest mobile camping safari experience, which includes larger tents that are put up and taken down by the safari company. But the tents still tend to be basic along with the meals. You should expect drop toilets, potentially communal shower areas, cots instead of mattresses, and basic meals. This is a good option for people who are okay with roughing it.
Luxury: At the highest level, you'll find mobile camping safaris like Brave Africa. We are a full-service African wildlife safari offering outstanding amenities, ambiance, service, and experiences. We offer large 3-room tents, luxurious mattresses, flushing toilets, private showers, superb chef-cooked meals, a fully-stocked bar, and all the amenities. We take care of everything just like if you were staying at a lodge. You'll have a professional guide, daily housekeeping, laundry services, chef-prepared meals, and so much more.
For a mobile camping safari, you typically book a longer multi-day trip with a company that will allow you to go on safari in a few different locations. For example, we offer both 6-night and 9-night mobile camping safaris where you spend 3 nights at each campsite before moving to another location. Think of it like booking a safari tour, and all you have to do is show up and we do the rest.
Here are some tips for planning your ultimate mobile camping safari experience.
Lodge Safaris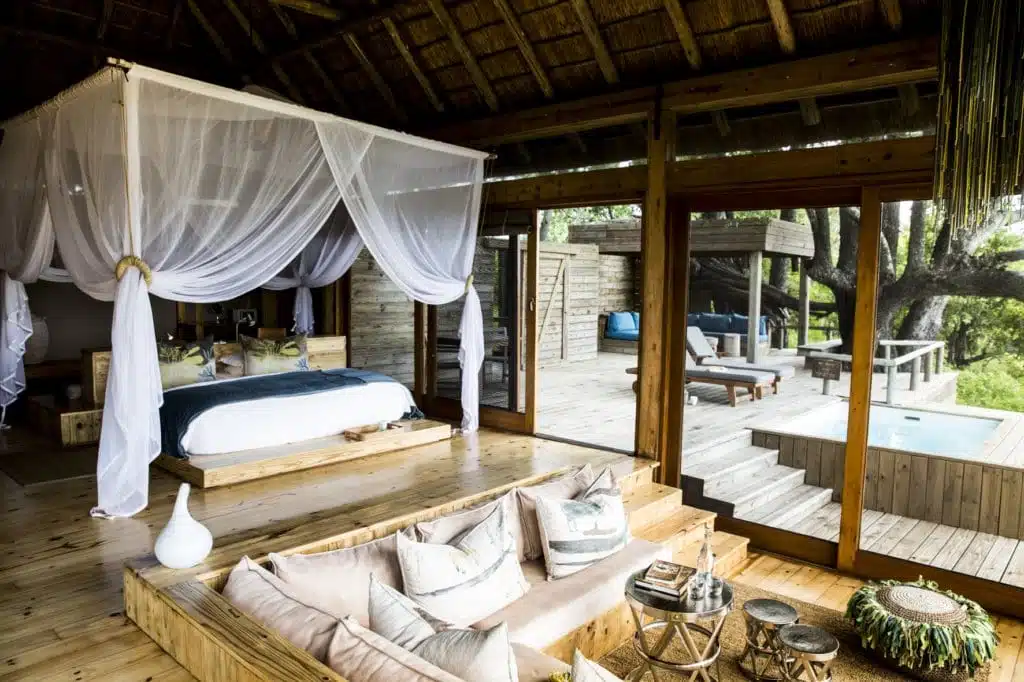 The final type of safari is the lodge safari. This experience is most similar to booking an all-inclusive hotel. You find a lodge in a location where you would like to stay, and you book your room in the lodge for however long you want to stay.
If you want to visit multiple locations in the African bush, you need to book a room at different lodges and figure out transportation between each location (bush flight, helicopter, road transfer). For most locations in southern and eastern Africa, moving between lodges means paying for a bush flight. This is because camp locations are normally an all-day drive away through the bush. So, you'll normally hop on a bush flight and get picked up at your next lodge. This is the main difference between a luxury mobile camping safari and a lodge safari—as a camping safari includes transfers between camps.
But lodges provide the ULTIMATE luxury. Depending on how much money you are willing to spend, you can stay in the most elegant and opulent lodge imaginable, with private pools in each room, the highest-end liquors, and the full range of world-class comforts and delights. There are also lower-end lodges that use very similar tents to Brave Africa and have a very similar experience, but you will still pay more for the lodge because their expenses are slightly higher, and you'll require more bush flights.
Plan Your African Wildlife Safari Today
An African wildlife safari is a once-in-a-lifetime experience that you do not want to miss. It is transformative and life-enriching. You will talk about it for years to come!
And, if you are like most guests, your first safari will not be your last. You'll discover how incredible it is to sleep under the stars, hear a lion's powerful roar, witness colorful birds in flight, and make memories that fill you with wonder and excitement. You will not only want to come back, but you will want to share the experience with everyone you meet.
So, if you are ready to take the plunge and plan your Botswana safari, reach out to Brave Africa today. You can email us at [email protected] or submit a contact form on our website.