When it comes to the best way to experience Botswana's wildlife, you cannot beat a safari. No other activity allows you such close and intimate access to nature. Plus, it's an adventure of a lifetime! And when you combine that one-of-a-kind adventure with a safari company that is committed to excellence, has a passion for conservation, and offers a personalized approach, it doesn't get better than Brave Africa Safaris.
Here are five reasons why Brave Africa Safaris is the best way to embark on your adventure into the heart of Botswana's wildlife with your family, surrounded by friends, or even on your own.

1.    An Unparalleled Safari Team with the Expertise and Knowledge You Need
At Brave Africa Safaris, we are known for our team of highly experienced and knowledgeable staff. They are key to our success and the reason we can offer the incredible experiences we do.
"I cannot write a review without mentioning the large staff. Every single one of them were one of the loveliest people I have ever met. They simply cared…about everything. They sang beautiful songs as a group, which I will never forget. They were genuinely interested in who I was and wanted to know more. They smiled with such a genuineness that will bring me back to share more experiences with them, again." —Laurie, Trip Advisor
All of our team members have spent years learning how to provide the best guest experiences possible. We are dedicated to ensuring that your safari experience is not only educational and enriching, but also exceptionally comfortable, fun, and memorable.
At camp, you can expect our amazing team to provide:
Personalized attention to every detail of your trip.
Daily cleaning, including laundry.
Chef-inspired and cooked meals for breakfast, lunch, and dinner.
A hassle-free safari experience.
2.    Exclusive Access to the Best Wildlife Guides
One of the things that make Brave Africa Safaris truly special is our exclusive access to some of the best safari guides in the business. Not only is our owner, Tabona Wina, a Level 3 guide (the highest qualification possible), but he is well known for being top-notch in the industry. After a safari with Brave Africa, every guest knows that it is Wina who made their experience special. We cannot deny that Wina IS the best way to experience Botswana's wildlife, period.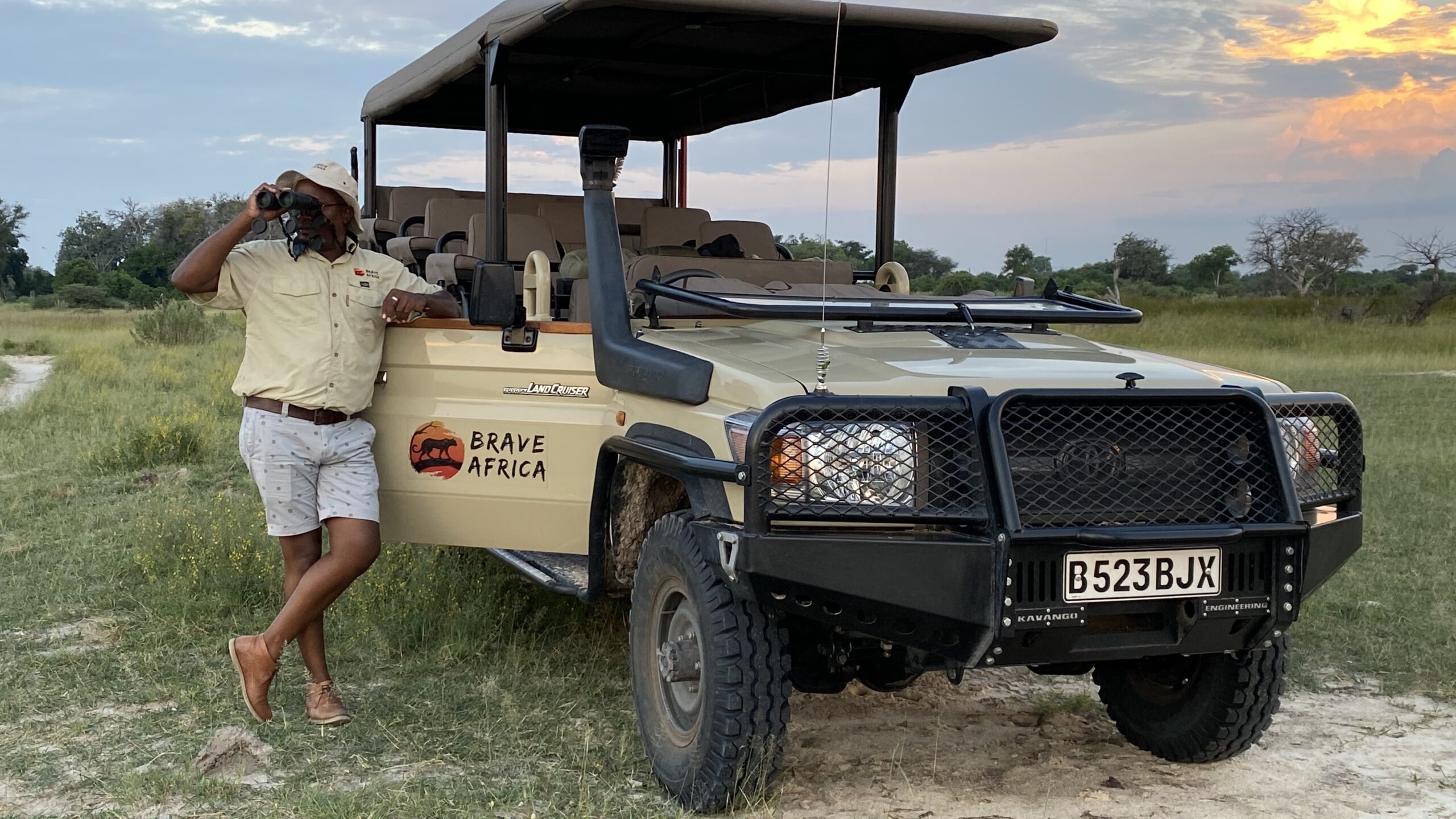 "Tabona Wina is a great guide, host and manager. We saw so many animals: elephants, lions, zebra, impala, a cheetah, a leopard, hippos, giraffe, buffalo and more… I felt like we were inside our own little nature documentary. Wina knows so much about the animals, birds and vegetation. He was constantly teaching us about our surroundings. He is so passionate and loves nature." — Susan A, Trip Advisor
"Mostly however the superb skills of the resourceful Tabona Wina as Guide make this really special as he has an extraordinary ability to find game." — Michael H, TripAdvisor
"Wina is incredibly knowledgeable and passionate about nature, and through his skill we were able to see a whole range of animals from lions to painted dogs to buffalo to elephants and, most excitingly of all, a leopard! Thank you Wina and team for making my stay in Botswana so special. I would highly recommend!" — Leo JHK, TripAdvisor
Wina, and all of our guides, are passionate about sharing their in-depth understanding of Botswana's wildlife. They have spent years studying and observing the animals and their behaviors, ensuring that every safari is one-of-a-kind. Our guides' expertise allows them to anticipate wildlife movements, giving you the best chances of witnessing unforgettable wildlife encounters.
And don't worry, if you are on safari with Brave Africa, you are perfectly safe! You will not need to worry about a lion or other animal getting in your car or tent. The animals may get near you, but your guide is always watching closely. He will make sure that you are protected from the animals while still having a fantastic time.
3.    Customized and Personalized Itineraries and Safari Locations
We understand that every traveler is unique, and that's why we offer customized and personalized safari itineraries. In general, we offer three different safari packages to get you started.
Brave Adventurer: This 10-Day and 9-Night adventure takes you to our favorite campsites in the Okavango Delta. You'll get to experience the different landscapes and wildlife of Moremi, Khwai, and Savuti (Chobe). This is our most in-depth experience that ensures you miss nothing.
Brave Explorer: If you have less time, this 7-Day and 6-Night adventure takes you to the Savuti (Chobe) and Khwai—two very different locations in the Okavango Delta. This is a great option for guests who want to experience lush forests and river fronts as well as desert plains and savannahs.
Brave Discoverer: Our final package is also 7-Days and 6-Nights and takes you into the heart of the Delta to spend time in Khwai and Moremi. These two locations are a favorite for guests interested in lush wetlands, vast waterways, and dense forests.
We have carefully selected our safari packages to provide you with the best way to experience Botswana's wildlife. You'll discover unparalleled opportunities to witness the natural wonders of this remarkable country from the Okavango Delta's waterways to the vast expanses of the Savuti plains, we offer a diverse range of ecosystems and landscapes to explore.
But if any of these trips don't exactly fit your dream safari, our team will work closely with you to tailor your safari experience to your preferences, ensuring that your adventure aligns with your interests and desires. Whether you're a wildlife enthusiast, a photography enthusiast, or seeking a romantic getaway, we will curate a safari that exceeds your expectations.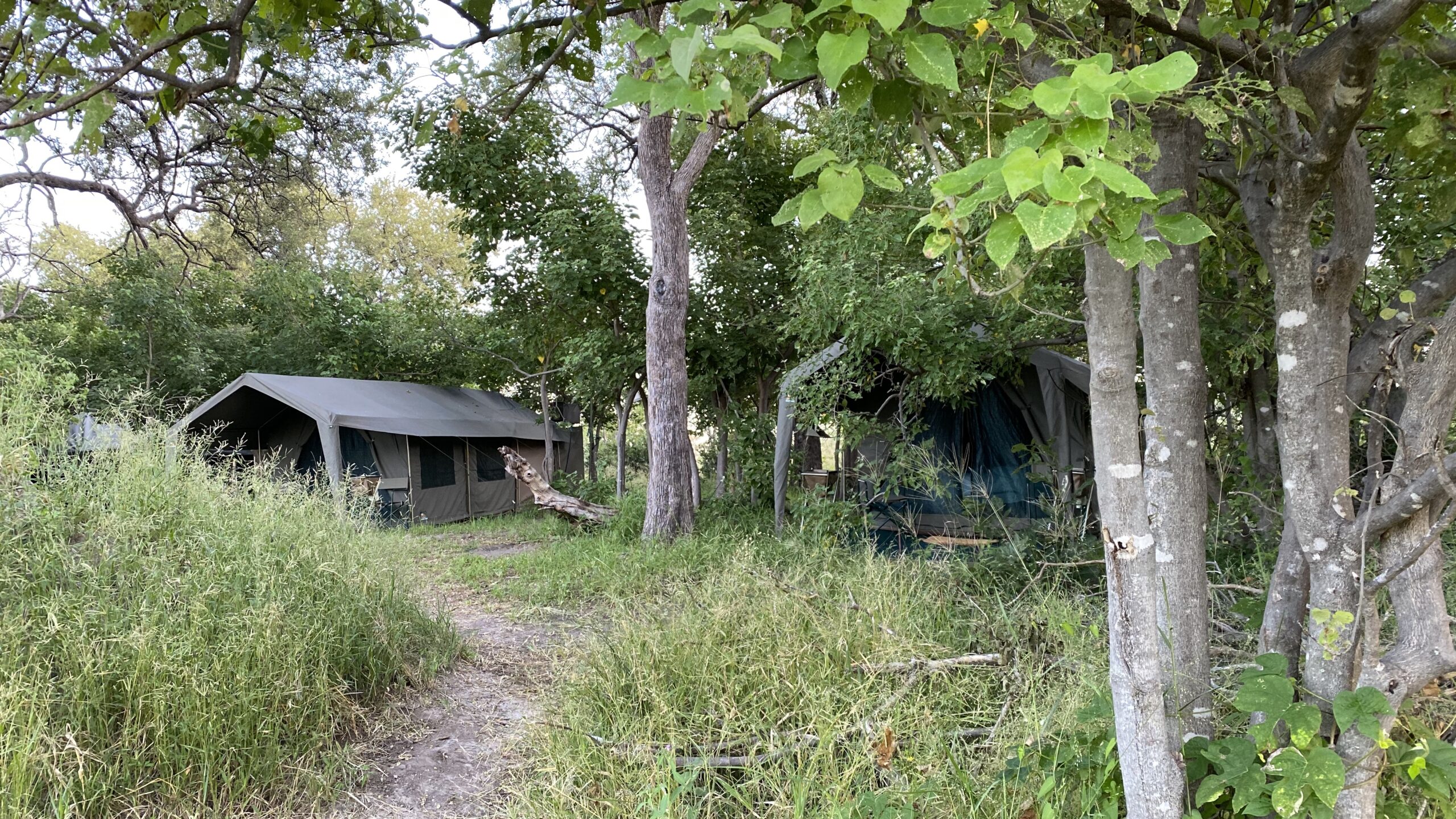 "They gave us the most amazing experience, camping in luxury in the Chobe and Moremi national parks in Botswana. We saw some sensational game over our five nights, with the considerable aid of our expert guide, and otherwise were treated like royalty back in the camp by dedicated and very friendly staff. When it was time to go, we were as sad to leave the stunning wildlife as we were to say goodbye to the wonderful men and women who looked after us- a really unforgettable experience that we would all gladly repeat. Strongly recommended." —Rupert K, TripAdivsor
4.    Sustainable and Responsible Tourism
For most guests, we know that sustainable and responsible tourism practices are critical to your choice of safari operators. It's important that you know your money is going toward a camp that is dedicated to the well-being of the environment, wildlife, and local communities. And at Brave Africa Safaris, that is our main mission.
Our camps are designed with eco-friendly principles in mind, minimizing our ecological footprint. Our motto is: we take only photos and leave behind only footprints. In fact, once our team packs up a camp and moves sites, it is like we were never there.
Our goal is to be in harmony with nature as much as we can. After all, the best way to experience Botswana's wildlife is with an eco-conscious approach:
Brave Africa Safaris has no permanent structures: we leave each campground exactly as we found it.
As much as possible, we are solar-powered: our front and back-of-house batteries are hooked up to powerful solar panels. We also use solar-powered lights to illuminate the camp, tents, back-of-house, and more.
Plastic consumption is kept to a minimum with reusable, personalized water bottles: these water bottles are a gift for guests to keep and take home!
We purify our own water, using powerful Berkey Filters—the world leader in water filtration. It removes 200+ unsafe contaminants, 99.9999999% of pathogenic bacteria, and 99.999% of viruses. It exceeds all industry standards globally.
Our stove, used for all cooking, helps us cut back on firewood, and thus our impact on the environment.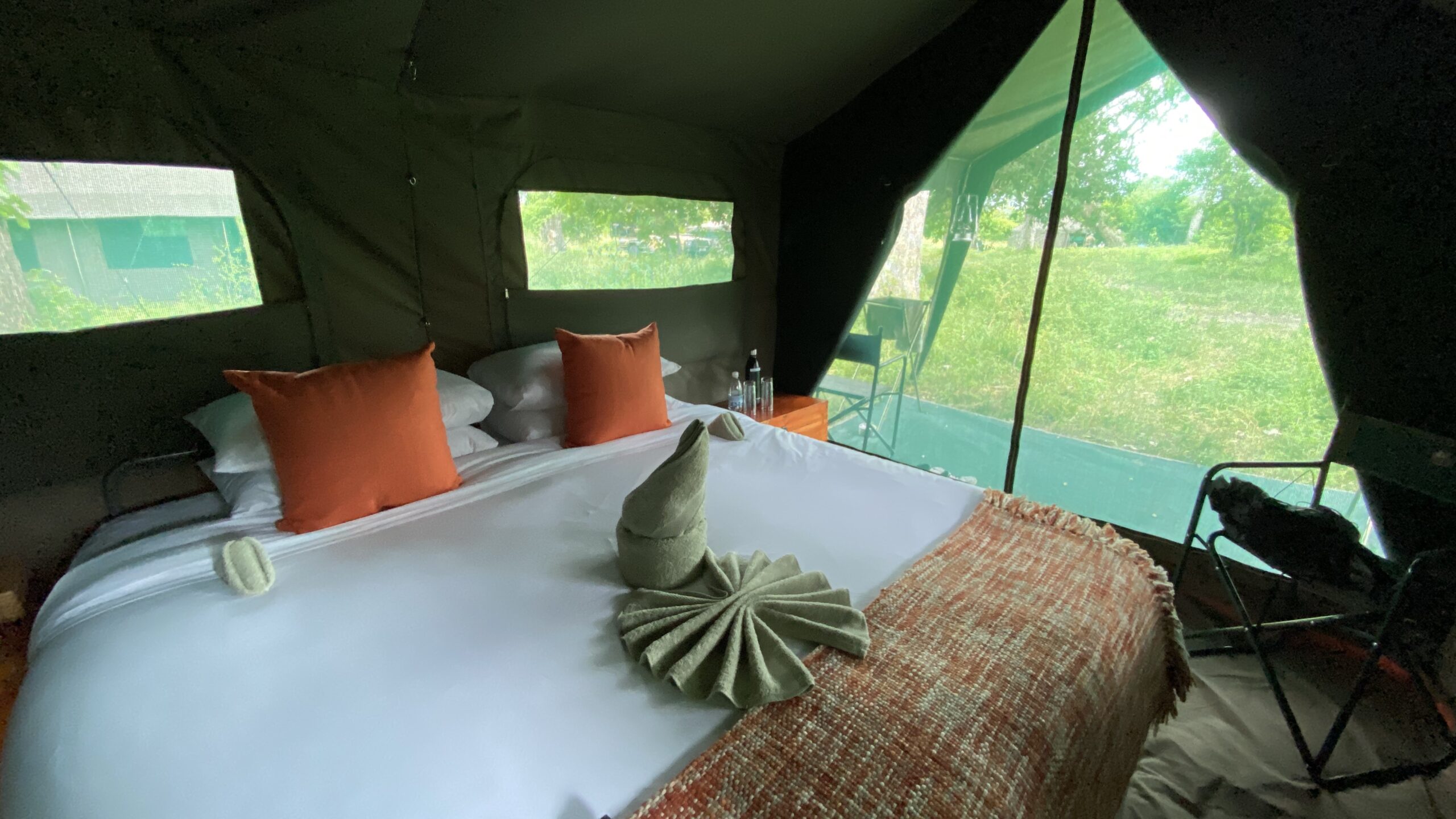 "All guest tents were large. It accommodated a king-size bed, nightstands, and storage for our clothes. The toilets were fully flushable. Each tent even had a shower area. The entire setup, with the addition of the great service from the staff, felt like a mobile lodging. After a few nights in one location, the camp was moved by the staff of Brave Africa to a different location.  This move was entirely done while we were out on safari drive, visiting the animals.  All we had to do was to put our belongings back into our suitcases before we began our safari drive.  When we arrived at this new camp location in the evening, our tent was set up and ready for use. This mobility of the camp made possible for us to experience a few different locals and environments." —PaultVo, TripAdvisor
We invite you to share an authentic, warm Botswana safari experience with us!
5.    Unforgettable Moments and Lasting Memories
A safari with Brave Africa is not just a vacation; it's a transformative and life-enriching experience. From witnessing a lion's powerful roar to the delicate beauty of a bird in flight, each moment on safari is filled with wonder and excitement. The memories you create with us will last a lifetime, and the connections you make with the wildlife and the natural world will leave an indelible mark on your soul.
"Wina told us a phrase, 'This is Africa!' It meant, at any moment, at any turn, something could happen, something could change and you are awestruck watching in amazement an animal, an event, a dazzle of Zebra and quite frankly you are rendered speechless. Humbled by God's creation and harmony of animals living and existing together in the bush.

You feel like you shouldn't be here. You're out of your element. Yet, you're thrilled to be a part of it, to see and share in this experience in the 'animals' backyard'. You feel like you are in their zoo, and what a privilege to participate and to try and capture with your camera the moments presented to you. When an elephant (one of three encounters) walks up to you within 3 feet, you can't help but feel a little scared, giddy, excited, overwhelmed, can't breathe, want to touch, can't move kind of moment! It's that exciting!" —Rick F, TripAdvisor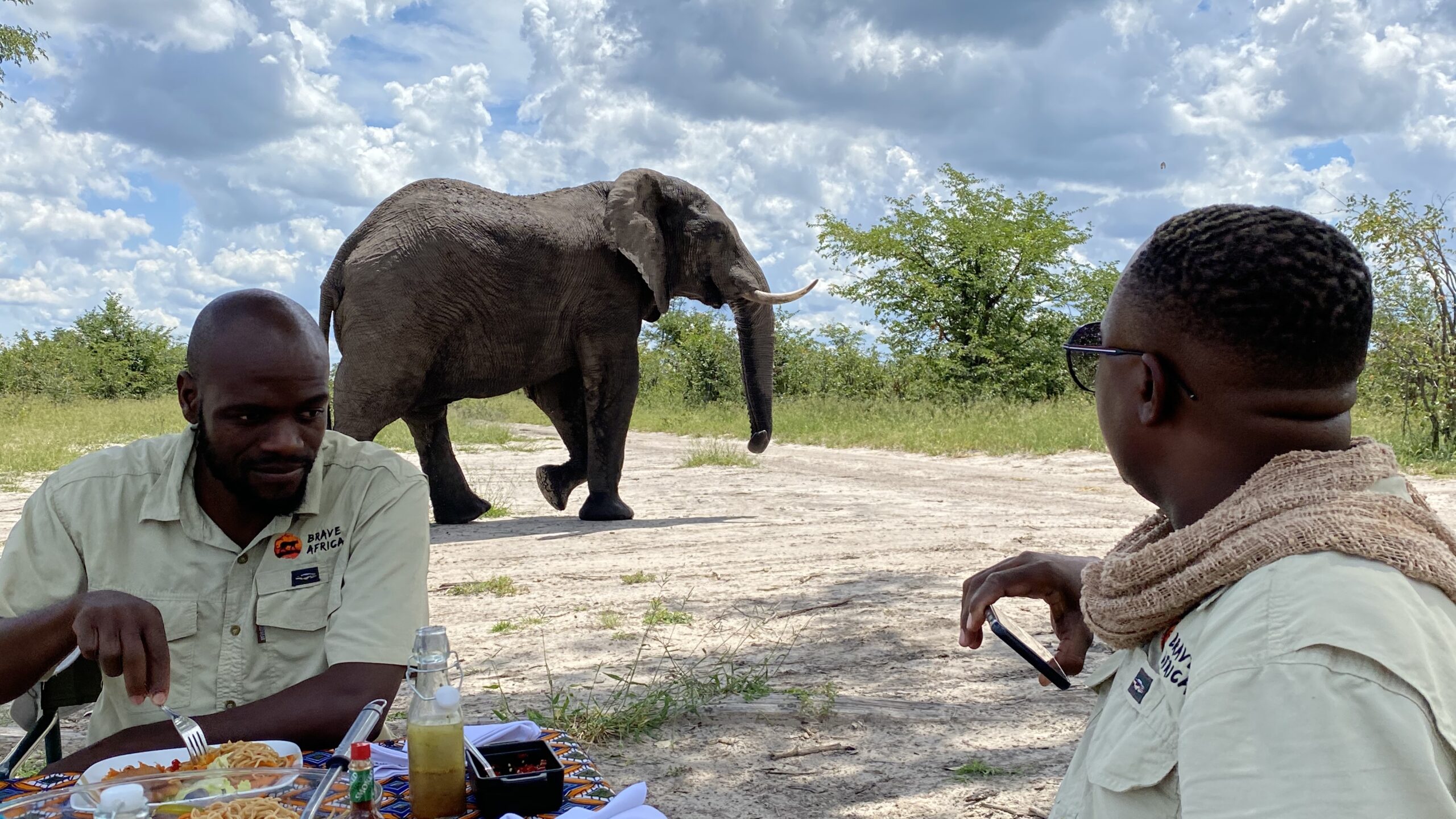 Plus, with Brave Africa safaris, you don't have to spend all your time in a vehicle. There are many ways to experience the wilderness of Botswana:
Walking safaris are a back-to-basics approach to safari. You leave the car and follow your guide on foot, which gives you a far deeper and more intimate connection with the wildlife and landscape.
The most serene and sublime safari activity is the mokoro—dug-out canoe safari. It is like no other experience and offers a fascinating way to explore the beauty of Botswana's waterways.
A boating safari, which takes place on a motorized boat, is a great way to explore even more of the vast waterways of the Okavango Delta—going where vehicles can't.
Night drives are another unique African safari activity that keeps you out after the sun has set to explore the bush in total darkness. Not only will you have the chance to spot night-dwelling creatures, but you can also witness a dizzying array of stars.
Visiting Khwai Villageis one of the highlights of going on safari in Khwai, Botswana. It's one of the things that makes this area so unique and allows you to see learn how communities live, speak to villagers, and participate in their traditional way of life.
The Best Way to Experience Botswana's Wildlife is with Brave Africa Safaris!
Embarking on a safari with Brave Africa Safaris offers an unparalleled opportunity to immerse yourself in Botswana's wildlife and natural beauty. With our expertise, exclusive access, customized itineraries, commitment to sustainability, and the creation of unforgettable moments, we ensure that your safari experience with us is truly exceptional.
Choose Brave Africa Safaris for the adventure of a lifetime and discover why we are the best way to experience Botswana's wildlife.