Before you go on a safari in Botswana, you have to do your research. Safaris are not cheap, and the last thing you want to do is try to save money and end up with a sub-par experience and a safari camp or lodge that's far below your expectations.
The problem is that there's both too much and too little information out there. We've been where you are and have spent countless hours (days!) online trying to figure out what it's like to go on an African safari.
And trying to figure out where to stay? Forget it!
You might as well just close your eyes and pick an African safari lodge or camp at random. After all, they can't be that different than each other. But that's where you're wrong.
Every Safari Accommodation is Different
While both safari lodges and safari camps offer incredible experiences and can share many of the same features, there are some major differences and similarities you need to be aware of before you make your choice. (And don't forget to check out our similar blog about safari vehicles.)
Our goal is not to sway you toward any specific safari accommodation over another, but to provide you with an in-depth overview of your options so that you can make the best choice for you.
First, a warning…pictures are not always accurate. Some safari camps and lodges are known for photoshopping their images or putting pictures online that don't match their typical product, but instead require hundreds or thousands of dollars in upgrades. Don't trust what you see. Instead, be sure to do your own research and ask questions. Look for customer pictures on TripAdvisor or Google Business, or work with a travel agent who has visited the camp and can confirm that what you see is what you get.
Botswana Safari Accommodation Features
Now, before we jump into the different types of accommodations, let's talk about a few key features of your safari vacation.
Bedroom: Your sleeping situation can drastically change depending on your camp. Be sure to ask if you have a normal mattress bed or cots, and if the bed can be set up as a king or just two twins. Also, the size of your tent can be anything from a small dome you can't stand inside to an extensive lodge suite and everything in between.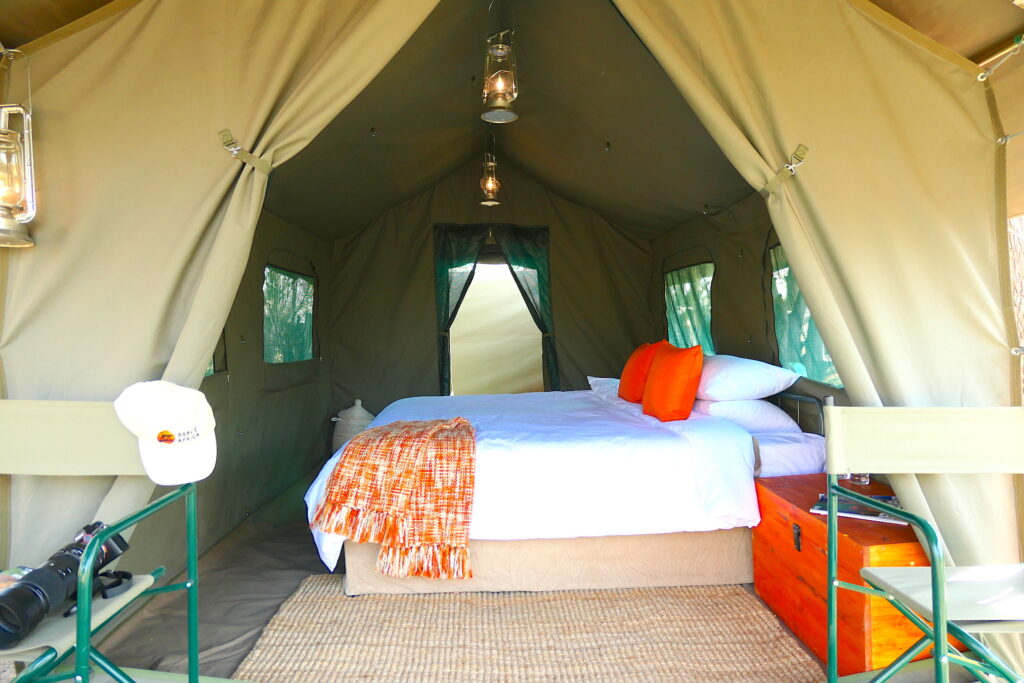 Bathroom: Not every safari camp includes an attached toilet and bath/shower. Most safari lodges will have a flushing toilet and shower, but bucket showers are still common even in luxury lodges. For mobile camps, drop toilets are typical and showers may be communal.
Shared Areas: Think of shared areas as similar to a hotel lobby or the living and dining room in your home. Every safari camp will have a campfire where you'll hang out regularly. However, the type and size of your dining area can vary greatly, so can any sitting areas, the bar, and more. Some lodges may also have a pool.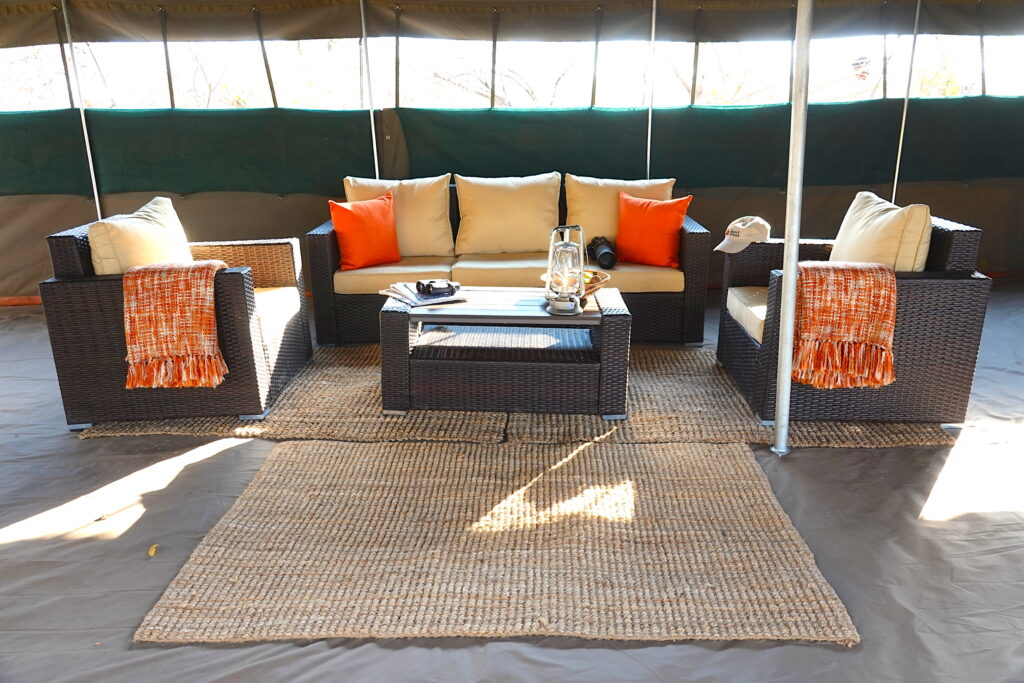 Power Outlet: At most safari lodges and camps, all power outlets are found in the shared areas. Your room will not have the ability to charge technology. Any charging you want to do in your room will require travel batteries and some camps may only offer charging via a car battery.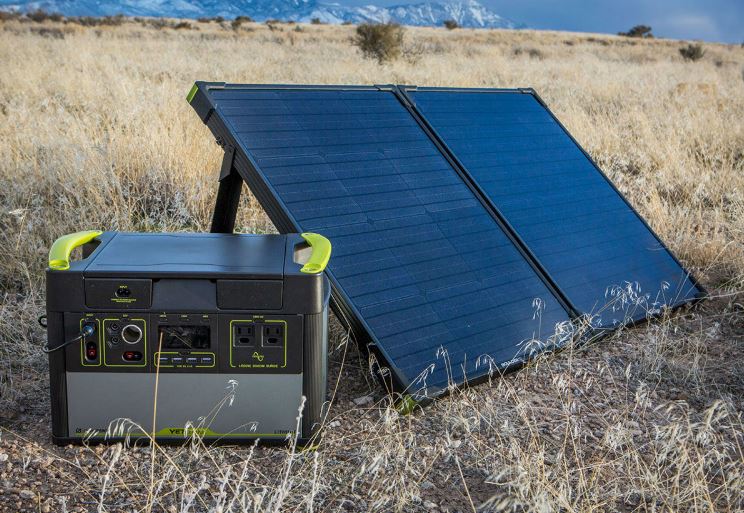 Internet Access: Very few, if any, Botswana safari camps offer access to the internet. The goal of a safari is to unplug, so do not expect internet or mobile to work while on safari. Instead, use your safari as an opportunity to forget that the rest of the world exists. (We do have a satellite phone available for emergencies.)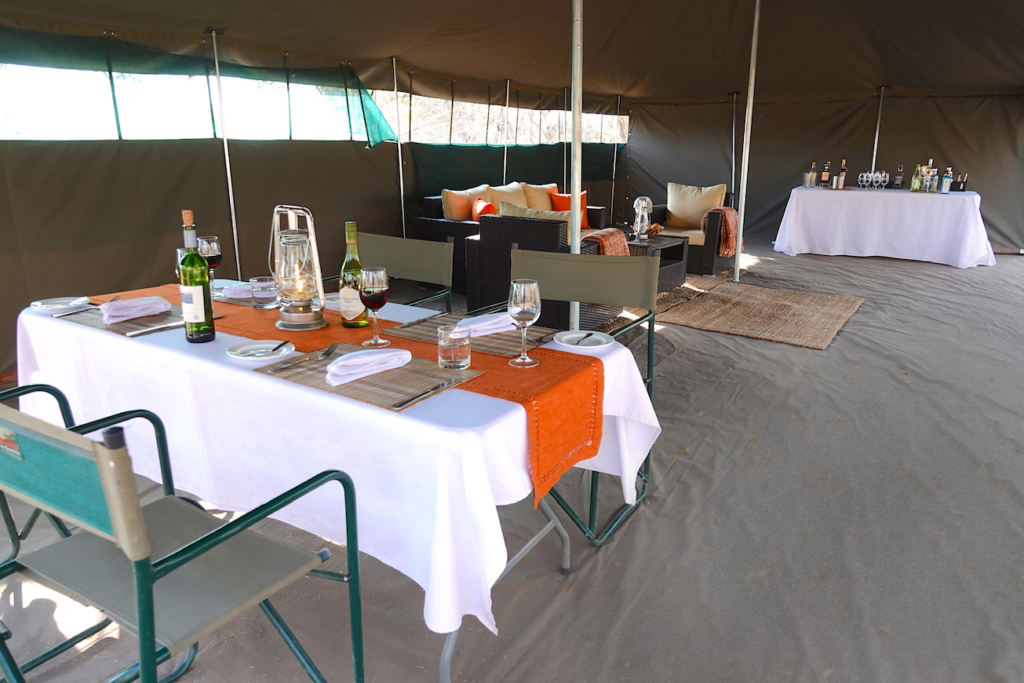 Food: Most lodges and camps have a chef, but the type of food they serve can very. For many mobile safari camps, cooking is done over an open fire, which can drastically limit the menu. However, some mobile camps, including Brave Africa, have an entire outdoor kitchen with a full stove and oven, which means the chef can cook the same types of meals you'd find in any hotel or restaurant.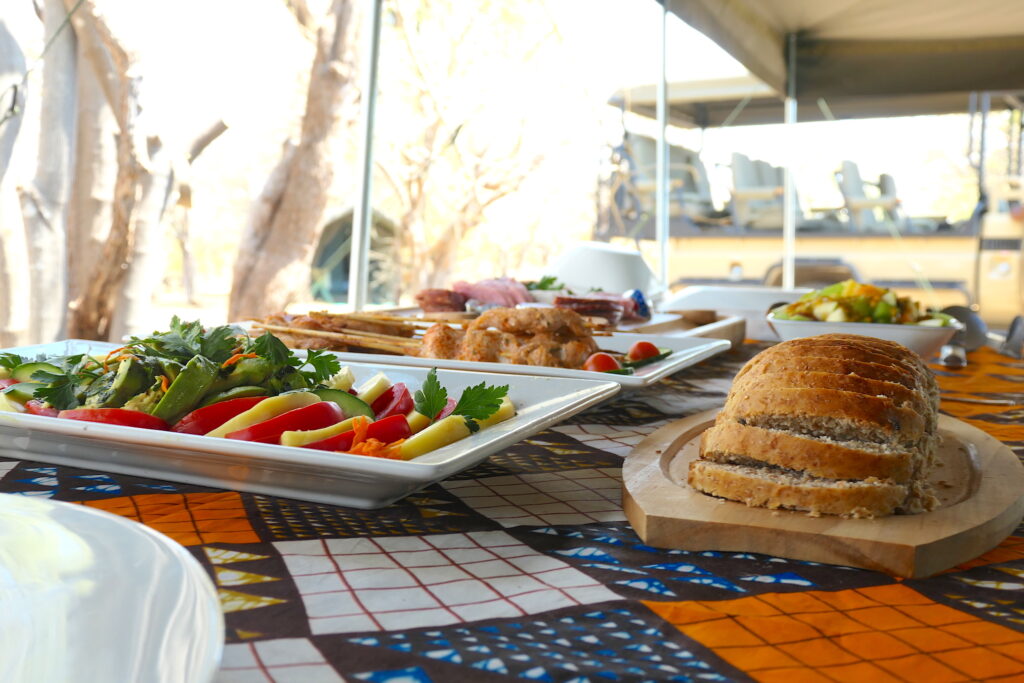 Safari Lodge vs. Safari Camp
Now, let's look at the more specific differences between safari lodges and safari camps to help you make your final choice of accommodation. When going on safari in Botswana, you typically have three choices:
A luxury safari lodge,
A mobile safari camp
A self-drive safari camp
Botswana Safari Lodge
A Botswana safari lodge is more like a luxury safari hotel. It's a structure that remains in one location that you, as a safari guest, travel to and stay at. Typically, safari lodges will have communal areas that act like hotel lounges. There's probably a dining hall, a reception, and a pool. Safari lodges are often built with wood, though rooms can still be canvas tents, but they offer more of a hotel-like feel. Expect:
Suite-type rooms with comfortable beds and lots of space
Luxury bathrooms with running water
Large communal areas for dining and relaxing, including a pool
Technology charging in the main communal area
No internet access except at the more premium lodges
Premium, chef-designed meals
All Botswana safari lodges are 100% focused on a luxury experience. They are beautifully crafted locations that are dedicated to your comfort. Guests can expect many similar features to a luxury hotel room.
Mobile Safari Camps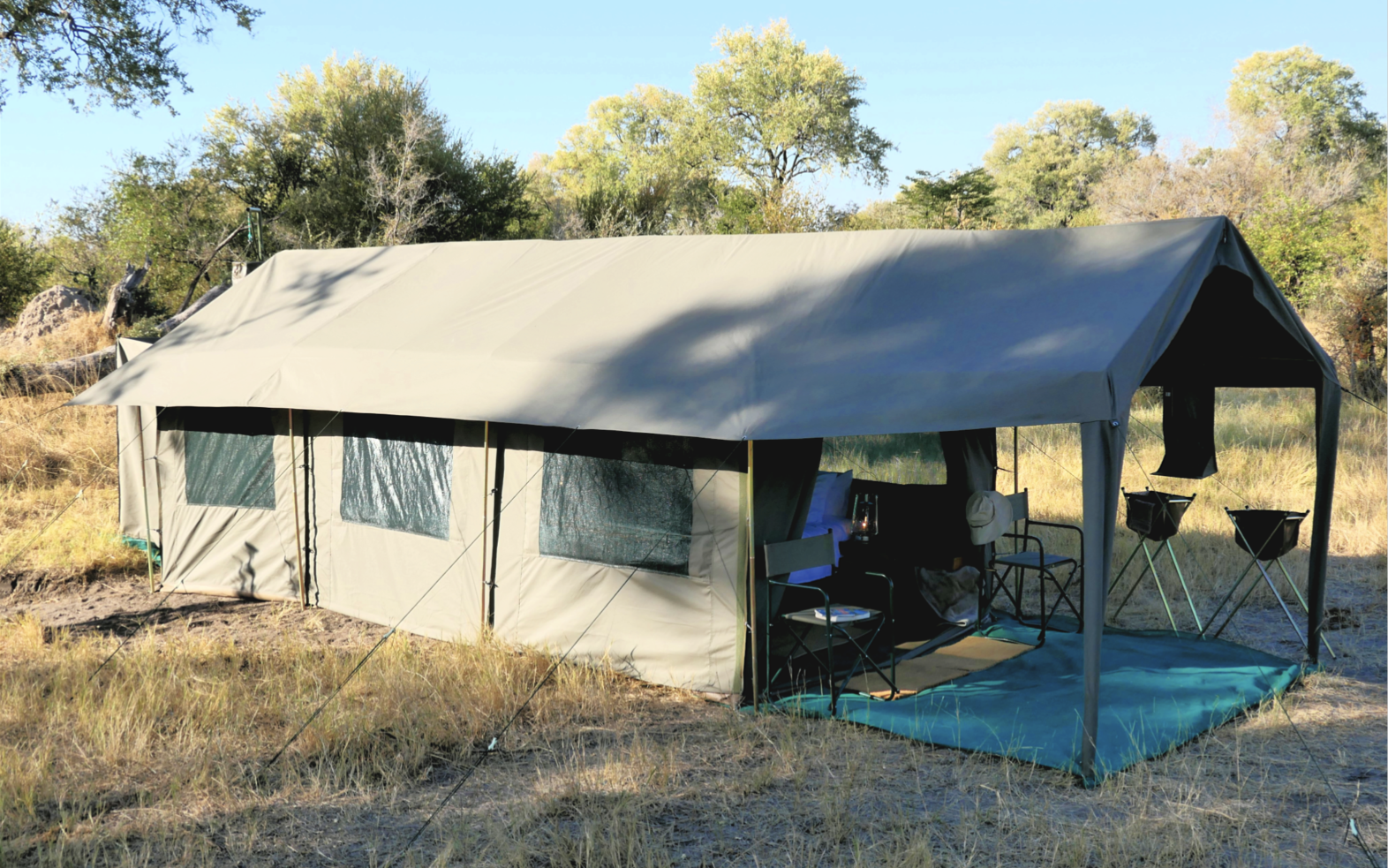 The second type of safari accommodation you'll find in Botswana are the mobile safari camps. These can vary depending on how much you're willing to pay and the type of experience you want. There are five types of mobile safari camps you can expect: budget, standard, premium, luxury, and ultra-luxury.
It's important to note that the naming conventions we used above are NOT standard for the industry. Many standard camps use the phrase "luxury" to sell rooms. Before you take any naming at face value, ask about the type of experience you're going to enjoy.
Budget Mobile Camping
With extreme budget mobile camping, your operator will provide tents, meals, and basic amenities, but the rest will be up to you. You may be expected to build your own very small dome tent or to participate in cooking. As for your sleeping and bathing arrangements, sleeping bags or cots are typical and toilets/showers might be shared.
Standard Mobile Camping
With standard mobile camping, the experience is a little more all-inclusive. You'll still have small dome tents with limited amenities. However, the company will take care of setting up and tearing down your tent and all of the cooking. Think of this as camping with a team that takes care of the basic details. Bathing arrangements may still be shared between camp guests, though you should have your own drop toilet near your tent.
Premium Mobile Camping
Premium mobile camping will get you bigger tents with a little more room to move around. With these safari camps, you'll have your own private toilet (drop) and bucket shower, typically connected to your tent. You still might sleep on cots, but all of your amenities are a little more premium, including your food—it will be cooked over a fire by a chef. You should also have a small dining tent that can be used as a shared communal area. 
Luxury Mobile Camping
Luxury mobile camping upgrades all of your features. Your tent should be large enough for a King bed setup with extra room to move. The toilet and bathing amenities should be top-notch. You may have a flushing or a drop toilet, but the entire experience should feel much more luxurious—these experiences are often referred to as "glamping." Meals may still be cooked over a fire, but should also include higher-quality ingredients and more variety. Communal areas tend to be on the small side, but they are comfortable though mainly used for dining.
Ultra–Luxury Mobile Camping
There are very few ultra-luxury mobile camps; Brave Africa is one. These are lodge-like camps where you shouldn't feel as if you're camping at all. Toilets are flushing, and tents are very spacious with comfortable mattresses, storage space, luxury amenities, and private on-demand bathing. As for the communal areas, they are much more expansive and include a seating area, room for dining, and a bar set up where guests can hang out at any time. Food should be cooked in a mobile kitchen with a full oven and stove, not over a fire, and premium alcoholic beverages are available.
Self-Drive Camps
Lastly, there are self-drive camps. This is camping at its most basic. You'll have your own car, which comes with basic camping amenities. You are in charge of everything, including all supplies. You'll be limited to campgrounds that are open to self-drive tourists and have to share communal bathing and toilets with all other self-drive guests.
Brave Africa's Ultra-Luxury Mobile Safari Camp vs. a Safari Lodge
| | | | |
| --- | --- | --- | --- |
| Amenities | Standard Mobile Camp | Typical Safari Lodge | Brave Africa Camp |
| Bed | Cots (twin beds) | Typical mattress bed (king or twin) | Typical mattress bed (king or twin) |
| Tent Size | Very small, little room to move | Luxury suite | Comfortable hotel-room size |
| Toilet | Drop | Flushing | Flushing toilet |
| Shower | Bucket shower (potentially communal) | Standard hotel shower with running water | Private bucket shower |
| Sitting area | Captains' chairs only | Comfortable couches and chairs for relaxing | Comfortable couches and chairs for relaxing |
| Dining area | Small tent for dining or around an open fire | Large dining room | Large dining room |
| Pool | No | Yes | No |
| Power | Shared power in the main area, may be limited to a car battery | Shared power in the main area typically solar-powered | Shared power in the main area typically solar-powered |
| Internet Access | No internet access | No internet access in the most premium camps | No internet access |
| Food | Cooked over an open fire | Chef-created in a full kitchen | Chef-created in a full kitchen |
https://www.youtube.com/watch?v=5QOObpI95JU