If you're getting ready to plan your first safari in Botswana, you're probably concerned about the cost. You've heard tales about how Botswana is the most expensive location to safari even as it's also considered the best.
So, what can you expect when it comes to the cost of a safari in Botswana? Is it only affordable for the wealthy?
We won't lie and say that going on safari is cheap, but it's not as expensive as you might think. By choosing the right flights, time of year, and safari experience, you can still have the experience of a lifetime at a price that's less than you might expect.
Cost of Botswana Safari International Flights
When you first start planning your trip to Africa, you're probably concerned about the price of plane tickets. After all, it's expensive to fly short flights. How much more costly is a flight to Botswana?
The U.S. to South Africa — USD $800 – $1400 Round-Trip
If you're coming from the U.S., there are many options for getting to Johannesburg, South Africa. It all depends on where you're coming from. In most cases, you're going to want to make your way to the East Coast.
JFK New York is a popular airport, and right now, flights on Kenya Airways and through Nairobi are just $886 for a round-trip. Going through Los Angeles, you can expect to pay only $1,033 on Qatar Airways through Doha.

Europe to South Africa — USD $663 – $950 Round-Trip
If you're traveling from Europe, you can expect flights to be a little bit cheaper. From Frankfurt, a flight on Ethiopian Air is just $663 round trip, and on Lufthansa, it's $916.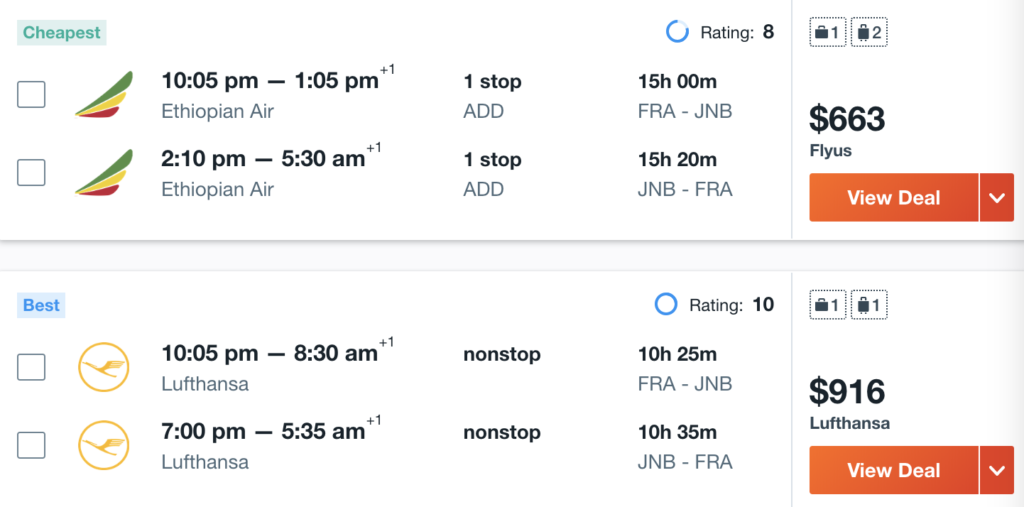 Australia to South Africa — USD $1150 – $1500 Round-Trip
From Australia to South Africa, you can expect similar prices as the U.S. Nonstop flights start around $1250 on Qantas Airways.

Flights to Maun — USD $200 – $350 One-Way
Once you make it to South Africa, you then have to take another short international flight—two hours—to get to Maun, Botswana. While Air Botswana is typically your most affordable option, we recommend flying South African Airways for a better guarantee of your flight arriving on time.
Here's what you can expect to pay to fly to and from Maun, Botswana:
Johannesburg to Maun: USD $200 – $300 one-way
Cape Town to Maun: USD $275 – $350 one-way
Flights to Victoria Falls —USD $250 – $319 One-Way
If you decide to visit Victoria Falls before or after your safari, you'll need flights to or from Victoria Falls:
Johannesburg to Victoria Falls: USD $250 – $319 one-way
Bush Flights — USD $430 – $600 Round-Trip
Going on safari in Botswana is unique in Africa in terms of travel. While in South Africa, Kenya, and Tanzania, it's common to drive to your safari camp, in Botswana, that's not the case.
The remoteness of Botswana's safari destinations means that driving isn't a choice for most travelers. It would take up too much time and require a four-wheel-drive vehicle. That's why bush flights are the popular choice for travelers and safari camps alike.
The good news is that there are many options for chartered bush flights, including: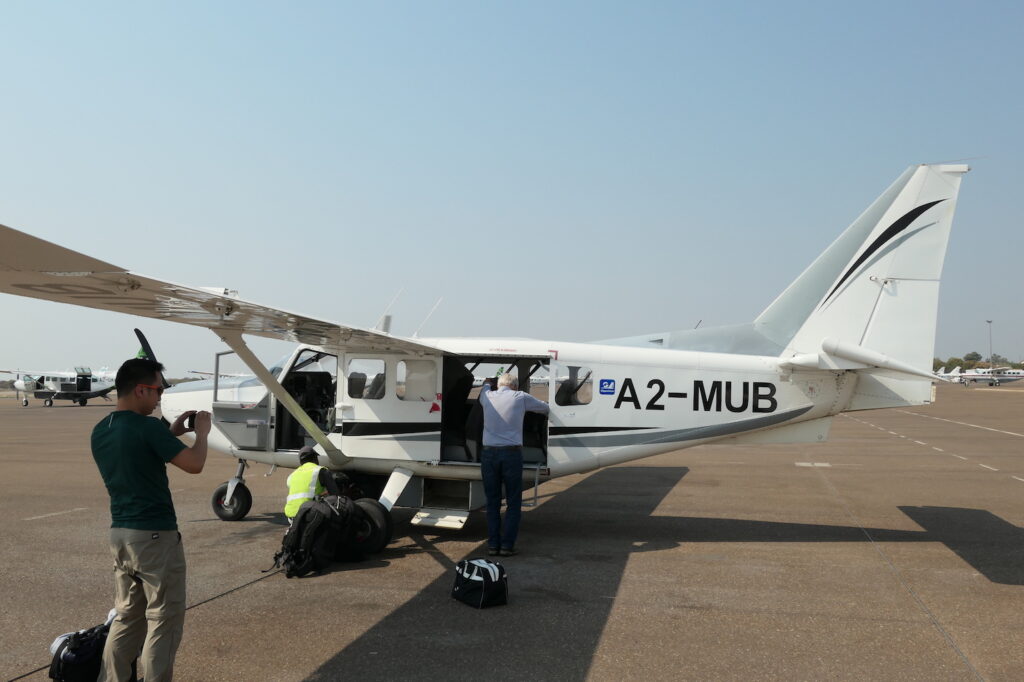 So, what's the exact cost of Botswana safari bush flights? Your travel agent will, most likely, include it in the total price of your safari. But, if you decide to book your own bush flights in Botswana, we talked to Mack Air to get their 2019/2020 rates.
Maun is your most likely departure point. It's the most accessible destination to fly to from Johannesburg or Cape Town, which is most likely where you'll enter Africa for your international flight. The good news is that since Maun is such a popular starting off point, prices are relatively affordable.
Maun to Xakanaxa: USD $215 per person
Maun to Khwai: USD $215 per person
Maun to Savuti: USD $217 per person
However, if you're coming from or heading to Victoria Falls before or after your safari, then you might use the Kasane airport instead. Due to the airport's location as well as its less frequent use, flights to and from Kasane are slightly more expensive.
Kasane to Xakanaxa: USD $372 per person
Kasane to Khwai: USD $372 per person
Kasane to Savuti: USD $357 per person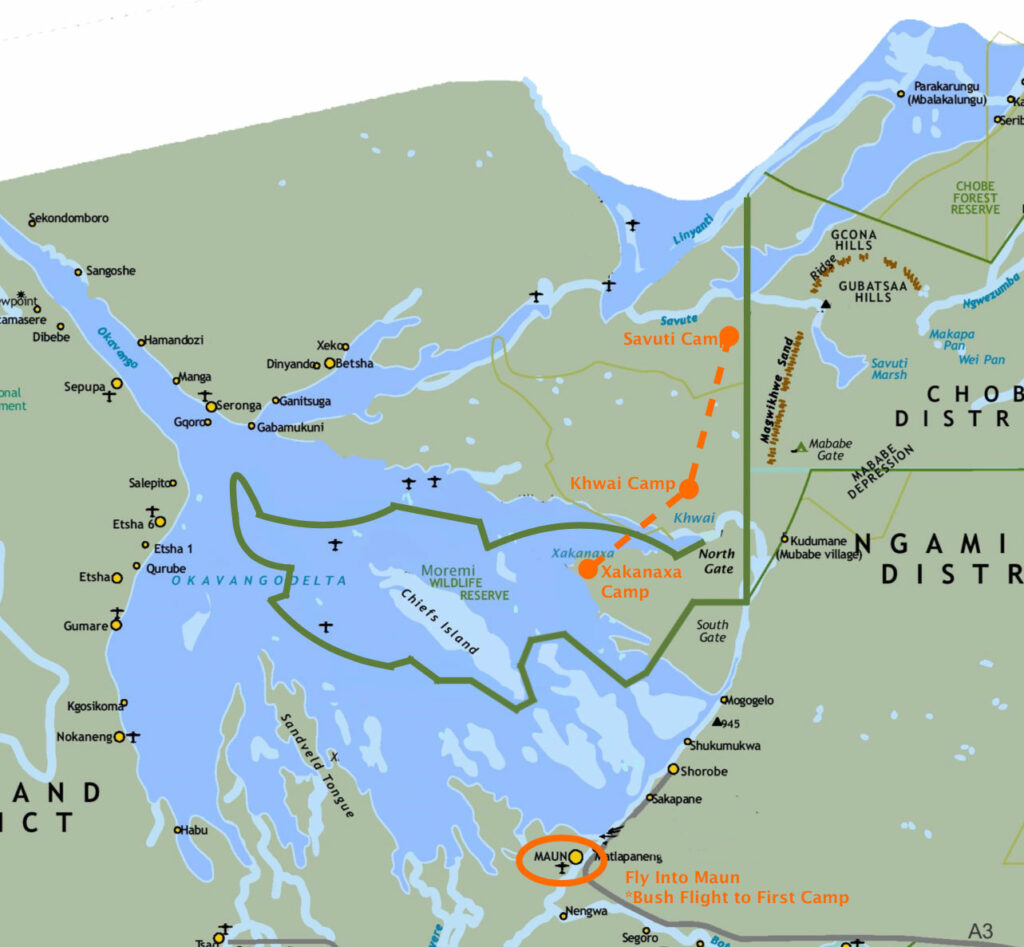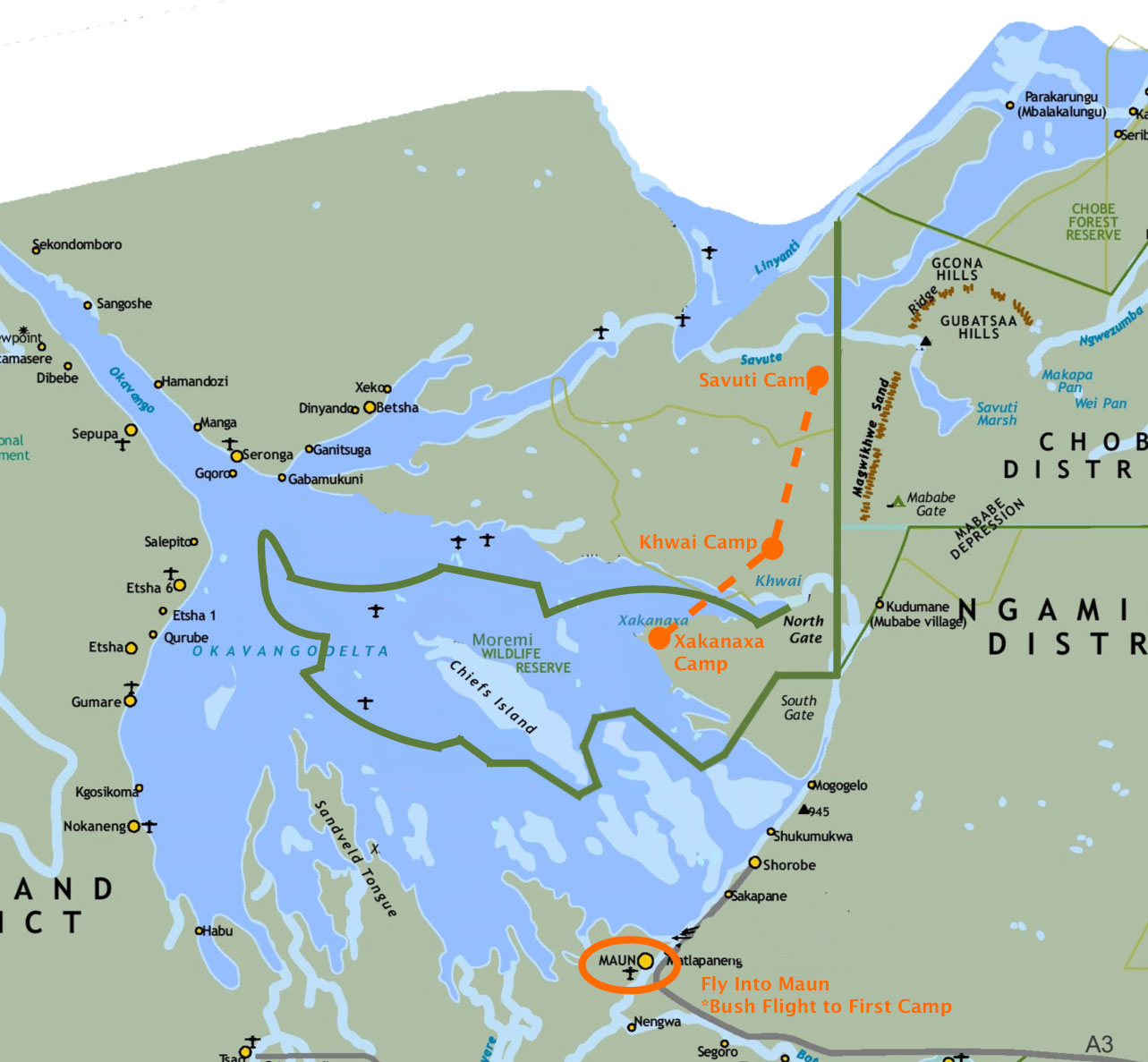 The Cost of a Safari in Botswana
After paying for flights, the only thing you have to worry about is the cost of your safari in Botswana.
The great news about a safari is that it's all-inclusive. There's no paying for a hotel and then paying for your food and activities separately. After just a few days, you might not realize how quickly it all adds up.
According to recent surveys of Americans on vacation, each day, on average, you can expect to pay:
$258 — for a hotel room in a large city such as New York City
$59 — for a car rental
$50 — for food
$100 — all-day activity/tour
That's a total of $467 per day + $159 per day for every additional person. So, for two people, that equates to $608 per day on average for an international trip. That's $6,080 for 10-days for a couple.
Now, that price can increase or decrease significantly depending on where you're heading for a vacation. The more remote the destination or popular the city, the more you can expect to pay.
A safari with Brave Africa isn't that much more expensive. Our per-person price includes:
All meals, snacks, and house beverages (including unlimited alcoholic drinks)
Laundry
Road transfers from the nearest airstrip and between our camps
National park fees
Emergency medical evacuation insurance
All-day game drives and professional guiding
For all of that, you can pay as little as $880 per couple per day for a ten-day/nine-night safari in Botswana. That's barely $270 more per day for a trip of a lifetime.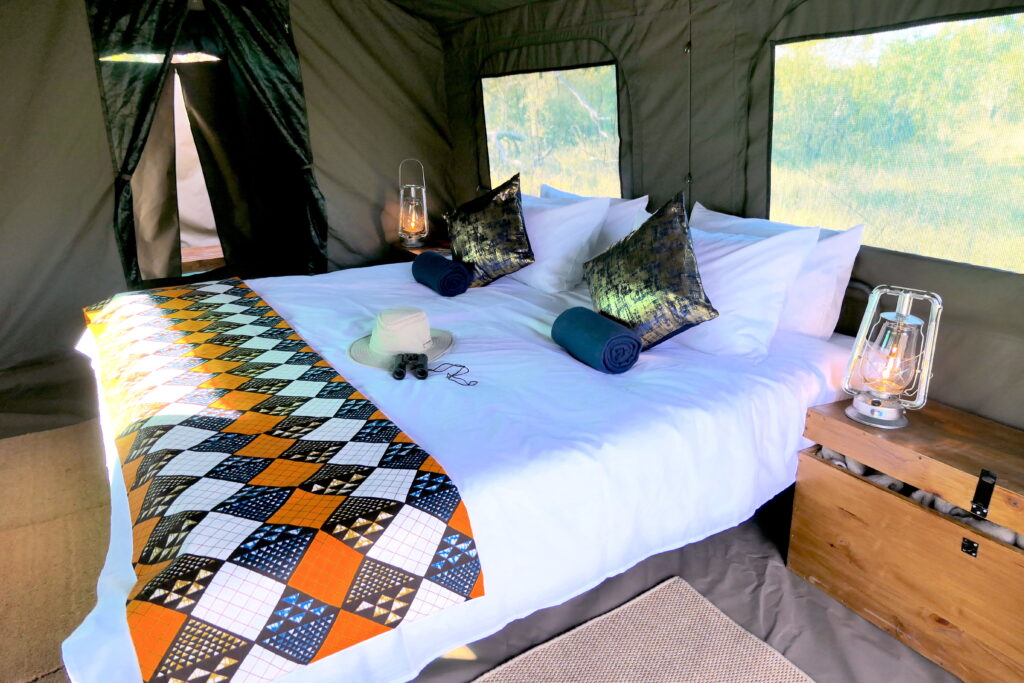 Total Cost of a Botswana Safari
So, when you add everything up, how much does it cost to go on safari in Botswana for a couple? Let's add it up.
International Flights: $2000 per couple
Maun Flights: $1000 per couple
Bush Flights: $1000 per couple
10-Day Safari: $10,000 per couple (shoulder rack)
Total Cost of a 10-Day Safari in Botswana for Two: USD $14,000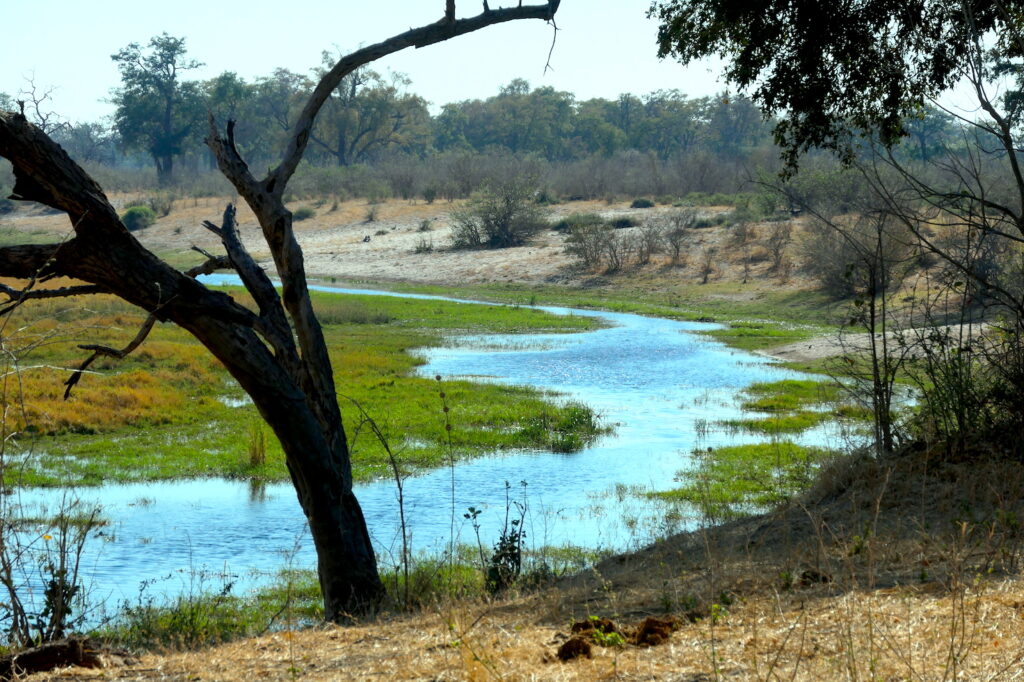 And while that might seem expensive, let's compare it to a trip to Disney World. This is a fairly decent comparison because you pay a daily fee for all-day activities, aka park tickets and hotels are at a premium on property. We planned a 9-night/10-day vacation and chose the average prices for comparison.
Hotel: $350/night — $3,150 total
10-Day Tickets: $1100 per couple
10-Day Dining Plan: $1300 per couple
International Flights: $2000 per couple
Total Cost of a 10-Day Trip to Disney World in Orlando, FL: USD $7,550
So, would you rather pay half as much and go to Disney World like everyone else or pay a little more and go on a trip that will change your life?
And if you'd like to save some money on flights, we're writing a blog in a few weeks about using just 80,000 points per person for a round trip flight to South Africa. That's a $2000 savings! So stay tuned!