Brave Africa Coronavirus Info
What's Happening at Brave Africa During Coronavirus?
This page is up to date as of December 22, 2020.
We know that booking a safari holiday is extremely difficult with how unpredictable the future is at the moment. We want to help you have peace of mind and feel confident that you have made the right choice to book with Brave Africa. Not only are we offering special pricing, but we've also updated our cancelation and reschedule policies for the 2021 safari season to provide you with extra comfort.
Click Here For Once-in-a-Lifetime Coronavirus Safari Pricing
We have implemented special pricing for any dream safari departing by March 31, 2021.

Book now, and you could save!

Book with Confidence in 2021!
In order to provide guests with comfort while booking a safari with Brave Africa during and after the coronavirus pandemic, we have crafted new policies for cancelations and reschedules. Beyond the updated policies outlined below, all of Brave Africa's standard Terms and Conditions apply. 
Early 2021 Promotion
Safaris Departing January 1, 2021 – March 31, 2021
2021 Promotion
Safaris Departing April 1, 2021 – March 31, 2022
Contact us today to reserve your Brave Africa safari with special coronavirus pricing!
Enhanced Safety and Cleanliness
At Brave Africa, our number one priority is the health and safety of our guests and staff. As such, we have implemented additional processes to maximize the cleanliness of our camp and the safety of your experience during the pandemic. Already, Brave Africa is ideally set up for a holiday where social distancing is embedded into the experience.
Our camp's maximum capacity is six tents (12 guests) at a time and a maximum of six guests per vehicle (two guests per row—no occupied middle seat).
Our main tent and vehicles are open-air, which greatly diminishes the infectiousness of airborne diseases.
Guests are assigned to a tent that they will use for the entire trip, decreasing cross-contamination possibilities.
Not only will each guest receive a personal Brave Africa Health Amenity Kit upon arrival—which includes a mask, personal hand sanitizer, and personalized water bottle—but we have implemented multiple enhanced health and safety measures. They include:
Increased availability of hand sanitizer.
Masks available to use as-needed / desired.
Enhanced staff training on safety and health protocols.
Heightened cleaning and hygiene processes.

Our team will carefully wipe down and sanitize vehicle armrests, seats, and handles after every game drive.
All shared surfaces at camp will be cleaned and sanitized between uses.
Sanitization of hard surfaces during daily guest tent cleaning.
Latest Coronavirus Blogs
Check out our latest blogs covering the coronavirus and Brave Africa. We'll try to keep you updated as things continue to change.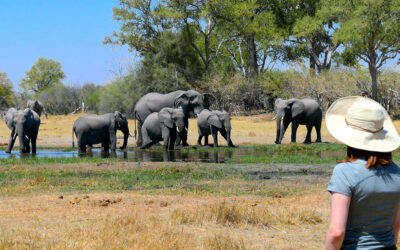 Great news! Botswana President Masisi approved lifting the country's international travel restrictions. It will happen in a phased manner, starting on November 9, 2020. You can now start planning your Botswana safari travel in 2021 and beyond. International Travel...
The Latest Coronavirus (COVID-19) Updates 
There's a lot happening in the world right now. As a safari located in Botswana, we feel it's our responsibility to keep you as up-to-date as possible with coverage of the coronavirus in Botswana and beyond. Below, you can find essential resources for insight and information as well as the latest about what's happening in travel during the pandemic.
Botswana Coronavirus Updates
Updated: December 22, 2020
Botswana has re-opened its borders to international travel. Air travel has resumed to both Maun International Airport and Kasane International Airport. You can also cross via ground from neighboring countries. When entering Botswana, there will be immediate screening required. To enter Botswana, you will need to:
Present proof of a negative COVID-19 PCR test within 72 hours of arrival.
You'll have to remain in contact (for self-monitoring) with local health authorities for 14 days.
Upon entry, you will be screened for COVID-19 symptoms and may be required to undertake manual testing and quarantine as needed.
Botswana has not experienced a large or extensive outbreak. Their swift and aggressive response to the pandemic has largely kept numbers small. Here's what those numbers look like right now.
11,982 cases of coronavirus recorded

513,853 total coronavirus tests

797 active coronavirus cases
11,147 individuals recovered from coronavirus
38 coronavirus-related death
Botswana Information
Travel Advisories
Health and Medical Advice
General Information / Press Briefings
Connect With Us!
Keep in touch with Brave Africa everywhere we are online and stay up-to-date with the latest news, animal sightings, and other happenings.
— Follow Brave Africa on social media & engage with us.
— Check out our TripAdvisor reviews and leave your own review.
— Tag your travels on social with #BraveAfrica.
— Sign up for our email list and get regular communication.