Do you want to go on a Botswana safari with your family, including kids? At Brave Africa, we can accommodate your safari vacation with special activities and pricing just for families!
We love booking Botswana family safaris because we believe there's no better way to enjoy a safari than surrounded by those you love and who love you in return. We're happy to make your dream vacation a reality. But don't just take our word for it, here are "10 Reasons to Take Your Kids on Safari" from Travel Africa Magazine.
However, there are a few things you should know before you book your family safari.
Kids on Safari—7 Years and Older
Yes, it is possible to bring kids on safari as long as they are over seven years of age. We do not accept kids under seven (7) for their safety. However, even for kids older than seven, we do not recommend a safari for everyone. It entirely depends on their maturity level.
A safari can be an amazing experience for kids—there is so much to learn, see, and do—but only if they are comfortable and capable of handling certain activities with aplomb.
Sitting in a car for long hours. Safaris require long days in a car, driving around. If your child would not enjoy sitting and watching elephants for an hour or driving around the bush searching for animals, a safari might not be right for them right now.
Sleeping in a tent at night. We offer families a large enough tent to fit four people. However, you still need to be able to trust your kids not to leave the tent at night no matter what. They also need to be comfortable sleeping in darkness and hearing sounds of the African bush at night.
Listening to and following instructions. A safari is perfectly safe, but only if you follow the instructions of your guide. All kids need to be mature enough to listen to their safari guide no matter what they are told, whether that's to be quiet, sit still, stay close, etc.
Remaining calm and quiet when required. On a safari, you will get up close to the animals. During these times, it can be vitally important to stay quiet and calm so as not to disturb or upset the animals.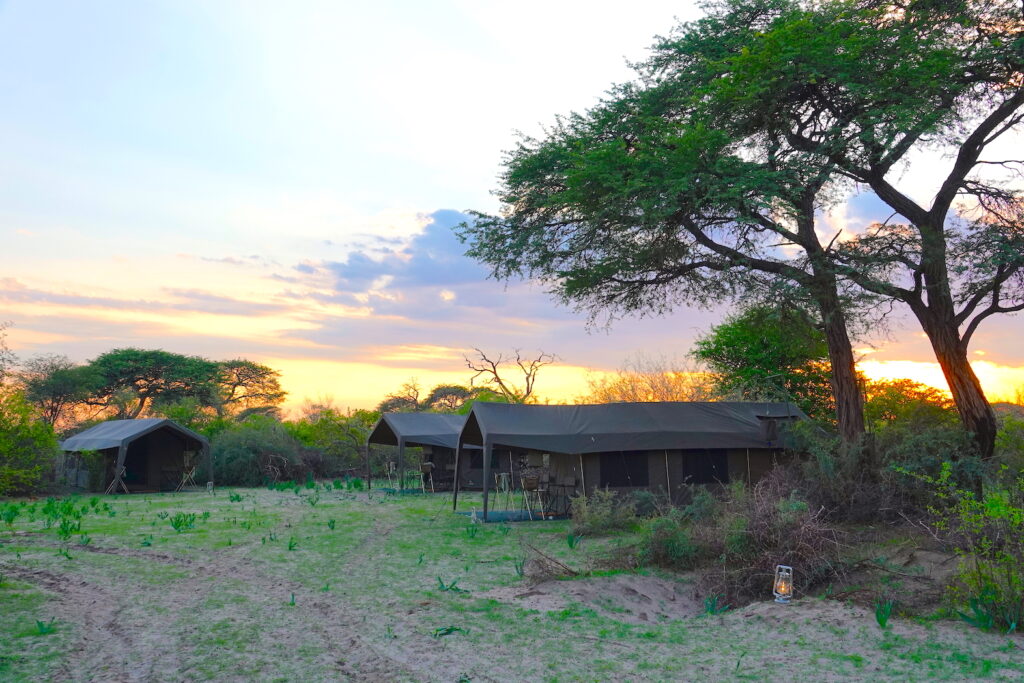 Safari Camping Experience
One of the reasons why families love to choose Brave Africa for their safari is because of the experience at camp and beyond.
Family Tent
Each family is offered the use of our four-person family tent, which can be set up as desired—either single or double beds. And as always, your tent will include a private toilet, closet, washbasin, and bucket shower (filled on demand). It offers a wonderfully private and exclusive safari experience for families.
Kids Meals
And when it comes to family dining, you can enjoy an exclusive experience as well. If your kids are picky eaters, our wonderful Chef Rachel will create a wide range of children's dishes just for them. You can provide us with a list of items that they enjoy/hate or leave it up to us. We can make almost anything from pizza to pasta with meatballs, fish and chips, chicken nuggets, and more.
Private Family Vehicle
Last, but certainly not least, all families with kids under 12—regardless of size—enjoy a private vehicle just for them. In this way, you control the pace of your safari and the activities you want to enjoy. We can go as fast or slow as you want and spend as much or as little time on drives, at camp, or whatever you want.
Junior Guide Activities on Safari
The good news is that when you bring your kids on a Botswana family safari, they aren't limited to just the standard experiences:
They also have the opportunity to enjoy kids-specific experiences, which we call Junior Guide Activities. These activities are designed to teach your kids to love nature and animals as much as we do. We want to help them discover a new-found respect for Africa and all it has to offer. 
Of course, all of these are subject to parent/guardian approval, but they offer a great way to keep your kids entertained and learning.
Tracking & Survival Skills
Our Brave Africa guides each have over a decade of experience in the African bush, and they love to share their knowledge with guests. For kids, this can be especially exciting and a great learning experience.
Our Junior Guides will learn how to explore and survive the African bush from the experts. Not only will they learn as much as they want about all the animals they see, but they'll also learn to identify and follow animal tracks, understand wildlife spoors, and more. On top of that, they'll acquire valuable survival skills such as how to make fire by friction and the medicinal uses of plants.
Safari Vehicle Skills
On a Botswana family safari, you will spend a lot of time on game drives. This can occasionally get boring for kids, but not when you add in our safari vehicle lessons. With parent approval, your kids can sit on our guide's lap and learn how to drive through the bush. In addition, they'll learn how to use the vehicle radio to communicate with camp and run the spotlight at night to find animals in the dark.
Wildlife Art
If your child is an artist, they'll love our wildlife art and drawing opportunities. Our guides will find a beautiful spot in the wild with animals nearby and then give them a chance to draw what they see to their heart's content. Then, your entire family will come home with one-of-a-kind original art pieces—better than any photo.
Traditional Botswana Sling Shooting
Slingshots are very valuable tools in the African bush and they're lots of fun for kids. Our expert guides will teach your kids all about sling shooting and give them a chance to practice their skills on cans. Don't worry; no animals will be harmed. We love nature and all things wild, and we want to share that love with your kids.
Brave Africa Passport
Finally, we've crafted a one-of-a-kind Brave Africa passport for your kids to commemorate their entire safari experience. They'll receive their passport the moment they get off their bush flight at the airstrip and are picked up by your guide. From then on, they'll collect stickers for every animal, activity, and camp they experience on safari. Best yet, the passport includes journal pages so they can write about all of their favorite memories.
Book Our Junior Guides Family Safari Package Today!
Your children will never forget their first safari in Botswana's Okavango Delta. They'll love learning everything they can about the bush from animal tracking to wilderness survival, safari driving, and more.
Contact us today to learn more about our Botswana family safaris.