On September 1, 2019, Brave Africa embarked on our inaugural safari. It was an incredible nine days in the bush that gave us a little bit of everything. We had a fantastic time at camp, had many once-in-a-lifetime animal sightings, and have memories that will last a lifetime. However, we also had a few things that went wrong, as every startup does.
Here's our Botswana safari review for our first trip out.
4 Lessons We Learned During Our Botswana Safari Review
No inaugural trip can go off without a hitch, and Brave Africa's first safari was no exception. While we'd love to be able to tell you that everything was perfect, that wasn't what this trip was about. It was our chance to work out the kinks, find areas where we needed to improve, and close any holes before our first paying guests.
Lesson 1: Ironing in the Bush Isn't Easy
We're sure it doesn't come as a surprise to anyone, but when you're in the Bush and limited to solar power, some things become far more difficult. One of those things was our ability to iron.
Originally, we purchased an iron such as you'd use in your house, but it quickly became apparent that it was a bad idea. Irons take a ton of electricity, so trying to iron sheets, napkins, and tablecloths on solar power isn't possible. The good news is that there's an easy fix.
Instead of a typical iron, we purchased an old school coal/wood burning iron. Now, we don't need any power to iron. We fill our cast iron tool with burning wood chips or coal and then iron away.
Lesson 2: Our Brave Africa Camp is almost TOO Nice
Can something ever be too nice? During our Botswana safari review, we found out that yes, in some ways, it can.
The Brave Africa camp is not like other mobile safaris, and we love that about ourselves, but that does come with some challenges. In particular, our niceness is a bit of a challenge when it comes to moving our camp from one location to the next. Unlike most other mobile camps, we have many premium items that enhance the guest experience but are bulky, heavy, and awkward to transport.
Full Cooktop and Oven Range
Instead of cooking everything over an open fire, we wanted to provide our guests with a more lodge-like dining experience, so we have a full cooktop and oven range in our back-of-house. We also have all the pots, pans, utensils, and cooking implements you would find in a typical hotel kitchen.
That means our chef can make everything from roast chicken to quiche, but it also means we carry more weight in our truck and have a longer set up time.
Mattresses and Bedding
Instead of cots to sleep on, we offer our guests mattresses and bed frames to enjoy at night. This changes our experience from camping to "glamping," but it means we have to transport a full hotel bed experience between camps.
You'll enjoy premium percale cotton sheets, soft blankets, duvets, and plush pillows. That's not to mention our decor that gives you a lodge experience in the middle of the Bush.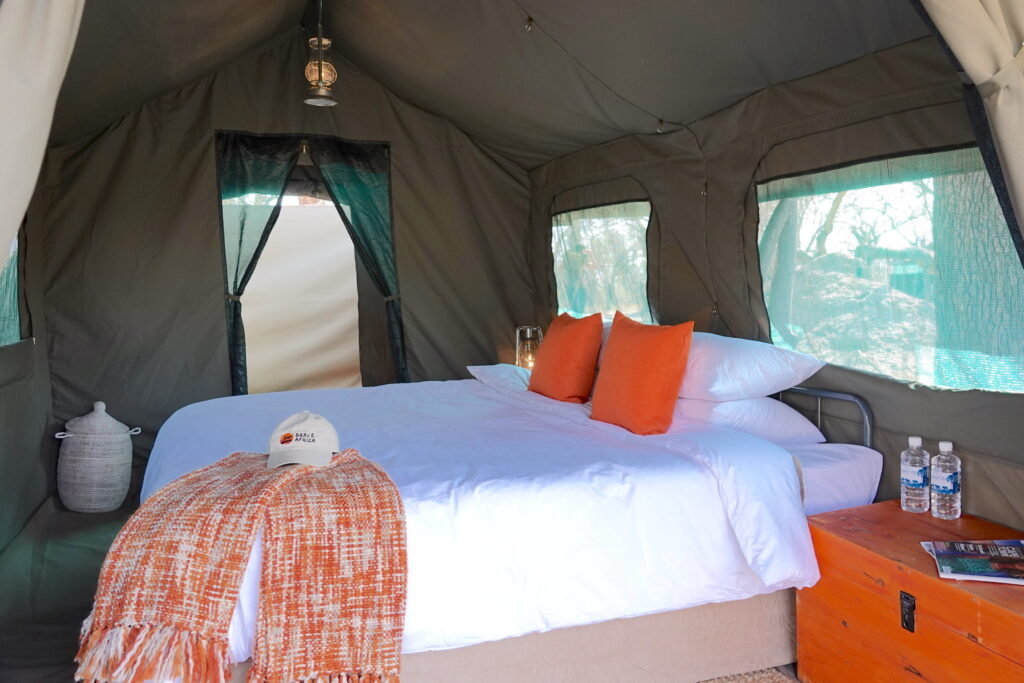 Comfortable Sitting Area
Instead of only offering director's chairs for our guests to use to relax, we have a full furniture set—a couch, two chairs, and a coffee table—in our main tent. We wanted to ensure that after a long day on an all-day game drive, our guests would have a comfortable place to relax, enjoy a drink, and talk with each other before and after dinner.
A separate sitting/living area that not a bunch of collapsible chairs around a fire is not something you find with most mobile camps, but we think it's necessary. During our Botswana safari review, we used the sitting area every night to wind down from the busy day and feel it's essential to a quality experience. However, carting around a couch and two chairs along with rugs and a coffee table means more weight and less room in our truck.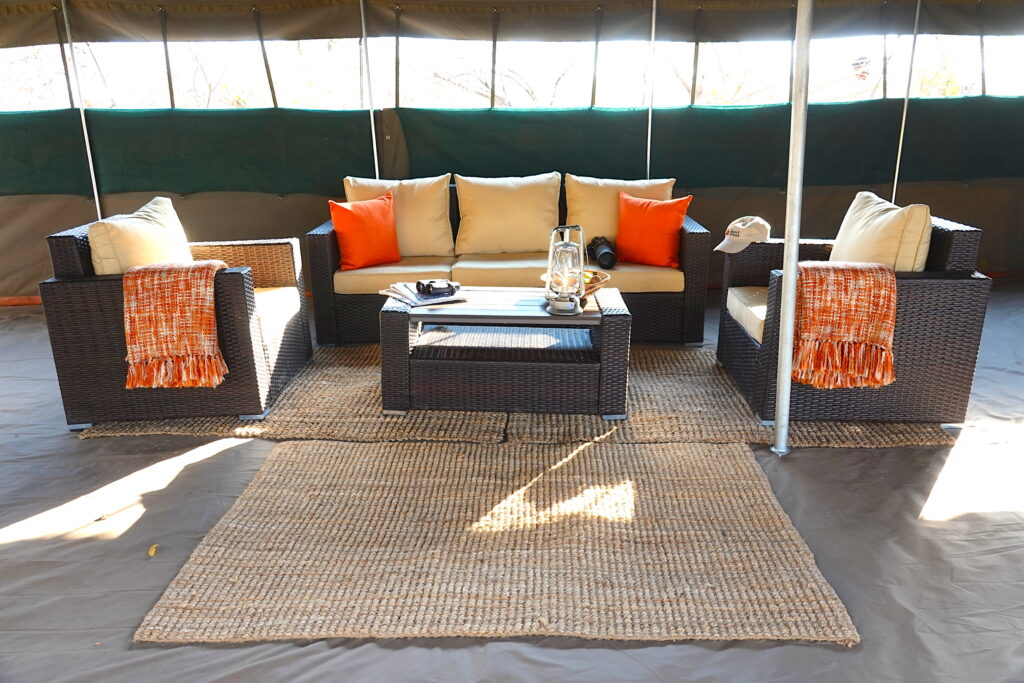 Expansive Tents
Instead of minimalist tents that are reminiscent of camping, we have three-roomed tents for our guests. These tents include a 2-meter extended front deck where you can sit on your director's chairs and enjoy the view. Then, once inside, your 3-meter wide tent is made up of three separate areas divided by zippable doors: a 4-meter long sleeping area, another 2 meters for your toilet, sink, and closet area, and an additional 1.5 meters for your private bucket shower under the stars.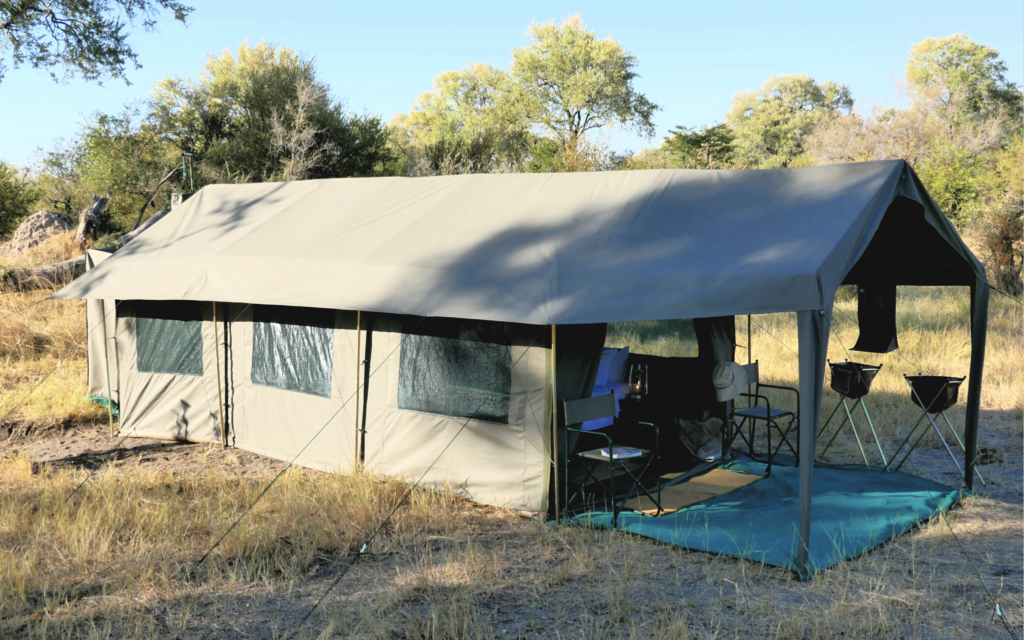 We also are one of the only mobile safari camps to have an extensive main tent area with removable sides as needed to deal with the weather. We can put up two or even three walls to keep debris, wind, rain, and relentless sun to a minimum. We can also remove walls or open up windows as needed to cool the tent down.
As you can tell from the image below, that's a lot of tent! It fits our dinner table (with lots of room to expand), our seating area, our bar, and there's still space to spare.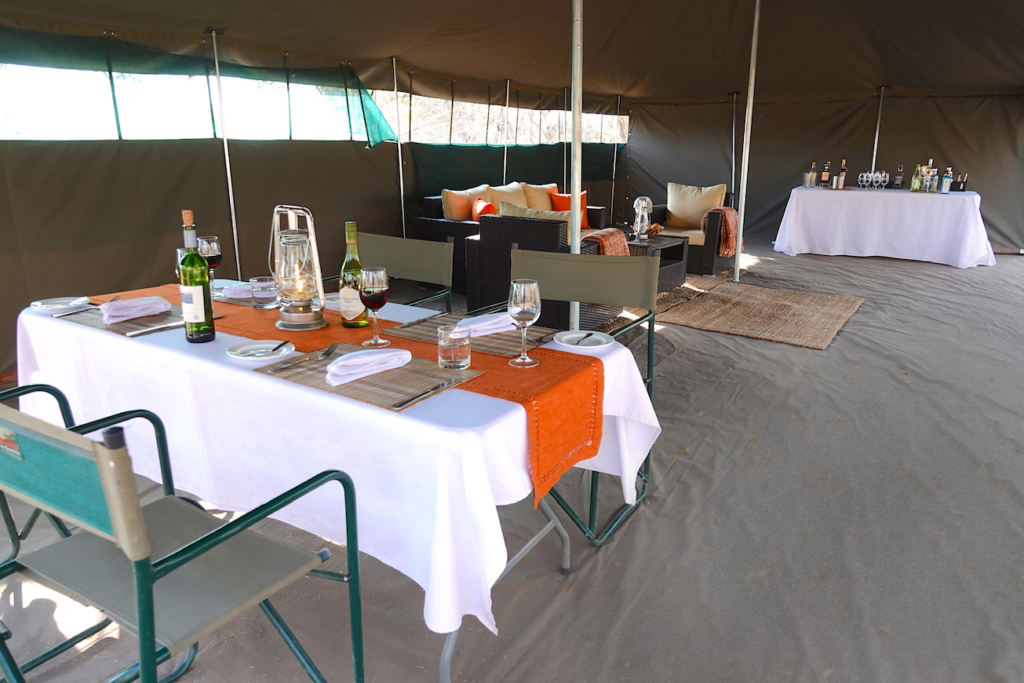 Solution: Second Benz Truck
To account for our luxurious mobile experience and to make transportation of our premium items easier on our staff, we've decided to purchase a second Benz truck to take some of the pressure off of our team on moving day. With an extra vehicle, our team can be more efficient on every move without us having to consider making our camp any less nice.
We want Brave Africa to be a mobile safari that's on par with any lodge, and we think we've made that happen.
Lesson 3: Simpler is Better
At the same time, we did learn that simpler is better in some ways. The core of the Brave Africa mission is to get our guests out into the bush as much as possible. We don't want you wondering, "What's happening out there?" because you're stuck at camp.
So, focusing on that crucial mission had to be our priority. What that meant is that we needed to simplify a few other details, so the core of who we are could shine. We decided to do this in a few ways.
Classic but Simple Décor
The first two days at camp, Gosiamé, our incredible housekeeper, went overboard on the décor. In each guest tent, she spent a ton of time folding towels into fancy shapes, spreading out blankets, and decorating the tent so that everyone looked like a five-star hotel room.
In the end, we decided that it was a little too much. A simple, clean bed looked great and was much easier on Gosiamé. It also means that guests have to worry less about "messing up" their room, and can spend more time relaxing.
Delicious but Simple Dinner
While a fancy dinner is always an enjoyable luxury, in the Bush, it's a little much. Delicious food speaks for itself and doesn't require a lot of pop-and-circumstance, so we decided to let the food shine. Instead of plating out every dish, we chose to serve our dinners buffet-style each night. In this way, guests can choose which food they want and how much they want.
Buffet meals waste less food while ensuring that everyone still gets the food they want. It also means that the food is hot and fresh until you decide to eat, but plating is simplified.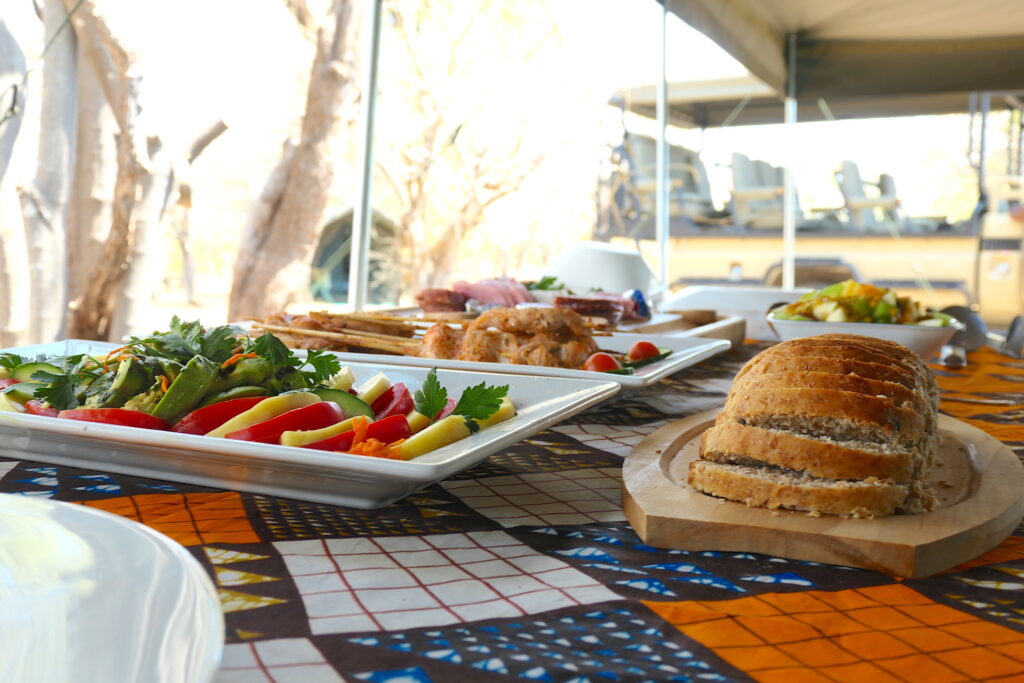 All-Day Game Drives
Finally, simpler is better when it comes to game drives. Instead of timing when you stop for snacks, when you come back to camp for lunch, and when you go back out, we keep it simple by letting the Bush tell us when and where.
With all-day game drives, we can take breaks, eat lunch, and stop for coffee whenever we want. If it gets hot, the animals are slow, or everyone needs a rest, we can stop. If we're hanging out with a pride of lions, we can stay there as long as we want and push off anything else.
Lesson 4: Never Miss an Opportunity
Finally, we learned that you NEVER want to miss an incredible opportunity. At one point, we saw fresh lion tracks disappearing into a Mopani forest. The tracks were less than an hour old, and we desperately wanted to follow.
Unfortunately, the forest was too thick for our Land Cruiser to drive through. Worse yet, our Level 3 Guide and President, Tabona Wina, did not yet have his rifle for game walks. That meant that as much as we wanted to, we could not follow the lion on foot and get up close and personal with him.
We will never miss another opportunity like that again. Wina now has a rifle and will always have it with him on game drives, just in case something incredible is just a few steps away.
Botswana Safari Review: Final Thoughts
While it would be lovely to have had a perfect inaugural safari, this not reality. Every new company has a few things they have to work out, but we consider our nine days on safari a huge success. By working out the kinks now during our Botswana safari review, when it was just owners on safari, we ensured that what our guests experience is second to none.
It makes us incredibly excited to introduce Brave Africa to new guests from all over the world. We hope you fall in love with us and Botswana.